On May 30th, 2023, a global audience came together in a groundbreaking launch event that showcased the immense potential of New Cities. From dedicated journalists to visionary academics, pioneering founders, venture capitalists, and influential international organizations, the event attracted a diverse community of urbanists from all over the world.
Moderated by Jeffrey Mason, research manager at the Charter Cities Institute, attendees enjoyed presentations that shed light on the transformative power of New Cities. They also witnessed the first live demonstration of the New Cities Map, which now enables the visualization of New Cities all over the world.
About the New Cities Map
The New Cities Map is a tool that allows users to explore New Cities (master planned cities created after 1945), their governance, and history. The New Cities Map showcases an open-source data set of more than 350 New Cities globally through an interactive map.
The New Cities Map was designed and commissioned by the Charter Cities Institute, a nonprofit organization dedicated to building the ecosystem for charter cities.
New Cities Map Launch – Event Highlights

Kurtis Lockhart, Executive Director, Charter Cities Institute – The Urban Age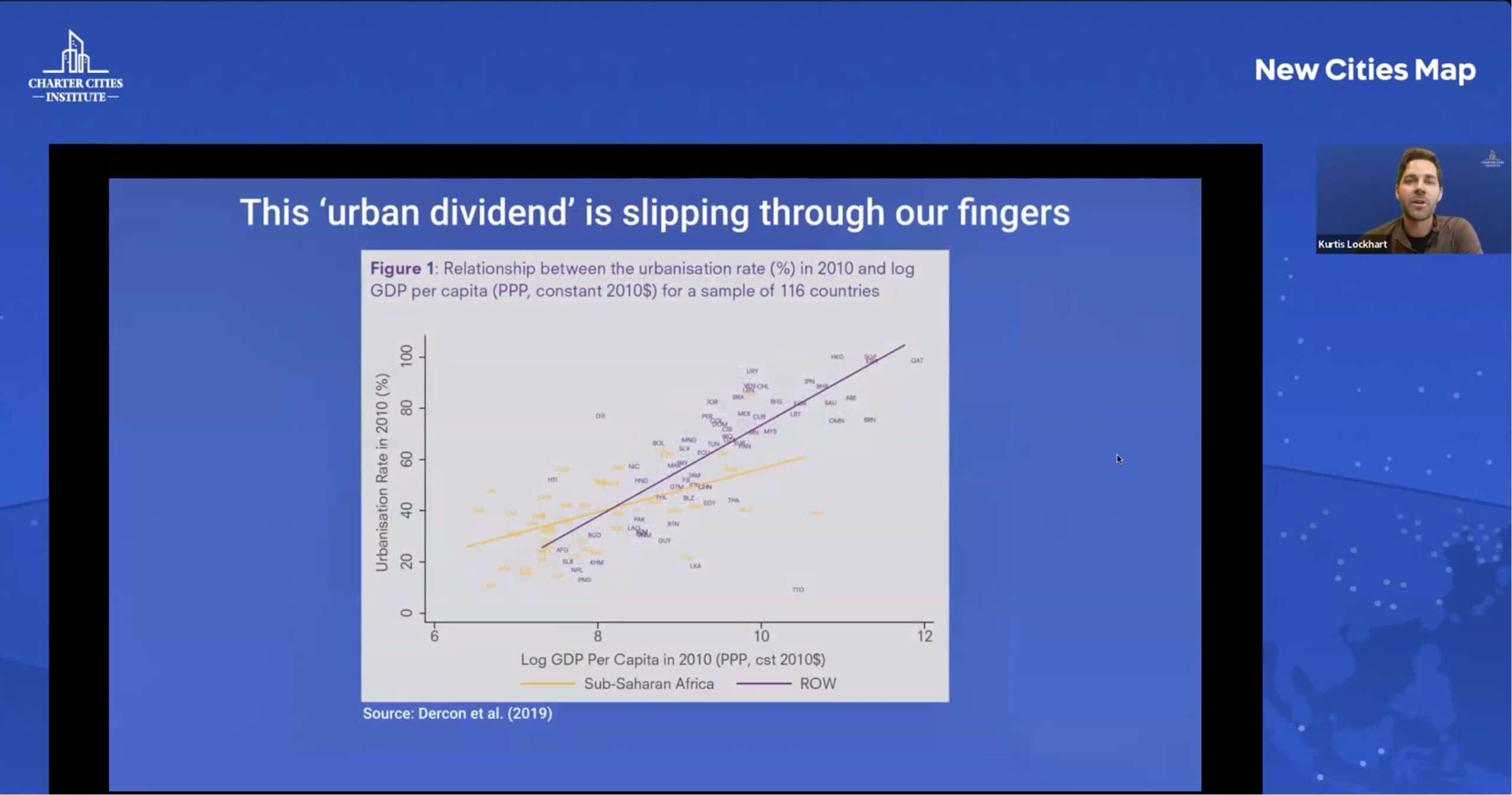 Kurtis provided valuable insights by contextualizing the significance of New Cities and the need for conducting research on them. He elucidated the historical trajectory of urbanization and its profound impact on the lives of people worldwide. Through thought-provoking statistics, Kurtis highlighted the disparity in the outcomes of urbanization, showcasing how it has significantly improved living conditions for some communities while failing to do the same for others. His presentation underscored the importance of understanding these dynamics to foster better urban development and public policies.
Kurtis' presentation illustrated how the correlation between urbanization and GDP per capita has a different tendency between Africa and the rest of the world. He also showed that the tendency to develop shares of manufacturing and services in GDP is much higher in Asia and Latin America than in Africa and the Middle East. Kurtis explains that the regions where the most rapid urbanization is currently taking place are facing the biggest challenges in providing services and benefits for people. If decision-makers and professionals involved in urban development continue to move forward without well-managed urbanization, problems such as crime, congestion, urban sprawl, and disease will increase.
Kurtis and CCI believe that charter cities, special economic zones, and new cities provide policy solutions that could allow us to complete humanities urbanization projects correctly, in a way that improves living conditions for communities in all corners of the globe. This led to the conclusion of Kurtis' speech, which highlighted that it is fundamentally important to do research on how cities, communities, and populations respond to different policies.
You can view his presentation here.
Tommie Thompson, Quantitative Research, Charter Cities Institute – How did we build the New Cities Map?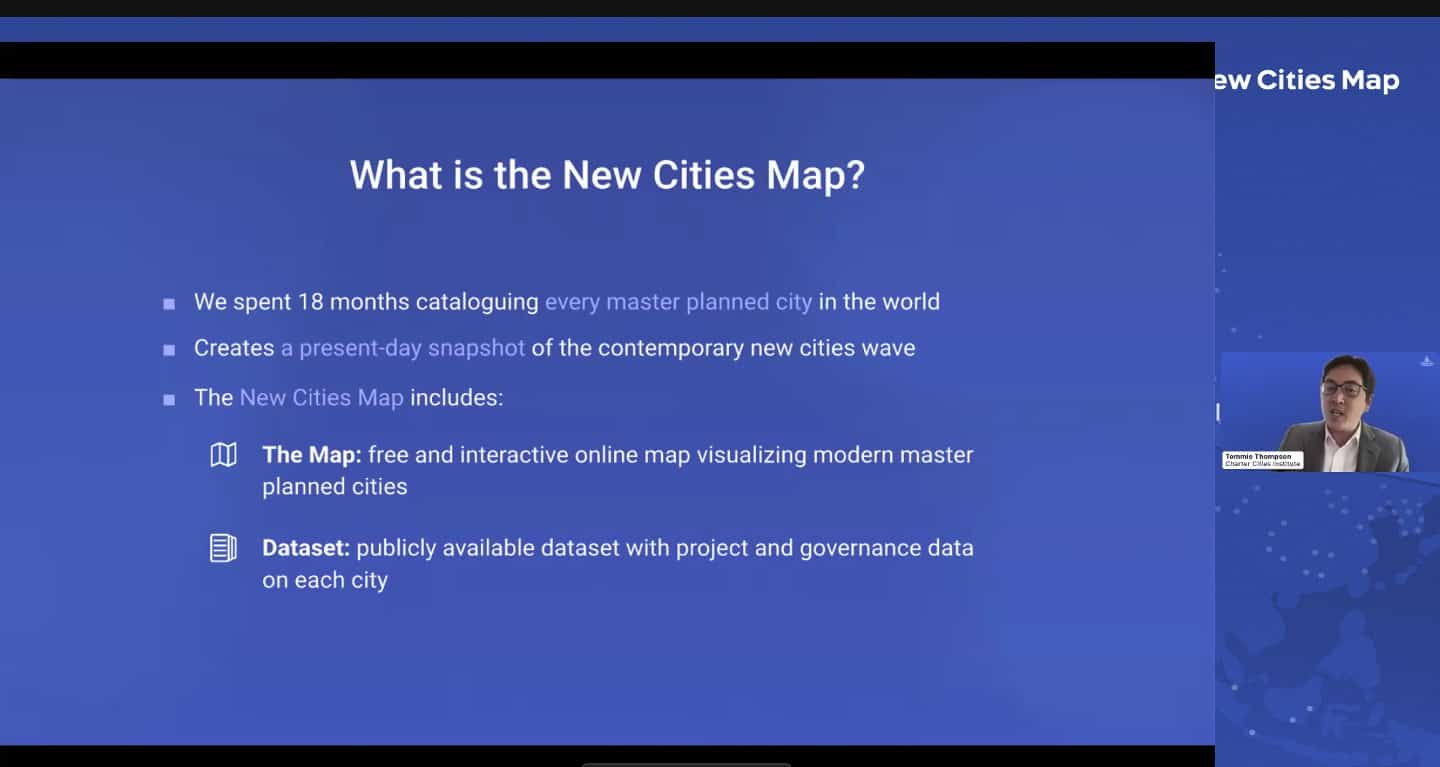 Tommie walked the audience through the general methodology for building the New Cities Map. He also explained that the motivation behind this research was the lack of policy guidance on the construction of cities. This has left urbanists, engineers, and politicians without the proper information and data they need for planning large-scale urban projects.
Until the launch of the New Cities Map, the majority of research available has been conducted by urbanists, architects, anthropologists, and journalists, using a qualitative methodology. The New Cities Map is different in that it is a social science-oriented resource, geared towards large quantitative analysis that can be used to deeply study the economic and social impact of cities.
The New Cities Map provides a large data set of New Cities, including variables such as GPS location, project management, city characteristics, project marketing, governance, and the city's autonomy. In order for the cities to be included in the data set they had to fit a rigorous inclusion criterion. After a city met the criteria for inclusion, further investigation was carried out to assess the degree to which it matched.
While the research on North America, South America, and India is complete, our research in Europe, Africa, and Asia is still ongoing, therefore, not every region has the same number of completed data points. If you'd like to support the further development of the New Cities Map, please reach out to [email protected] to help us redefine the way we build and understand cities.
Follow this link to view his presentation.
Niza Gonzalez, Project Manager, Adrianople Group – New Cities Map Live Demo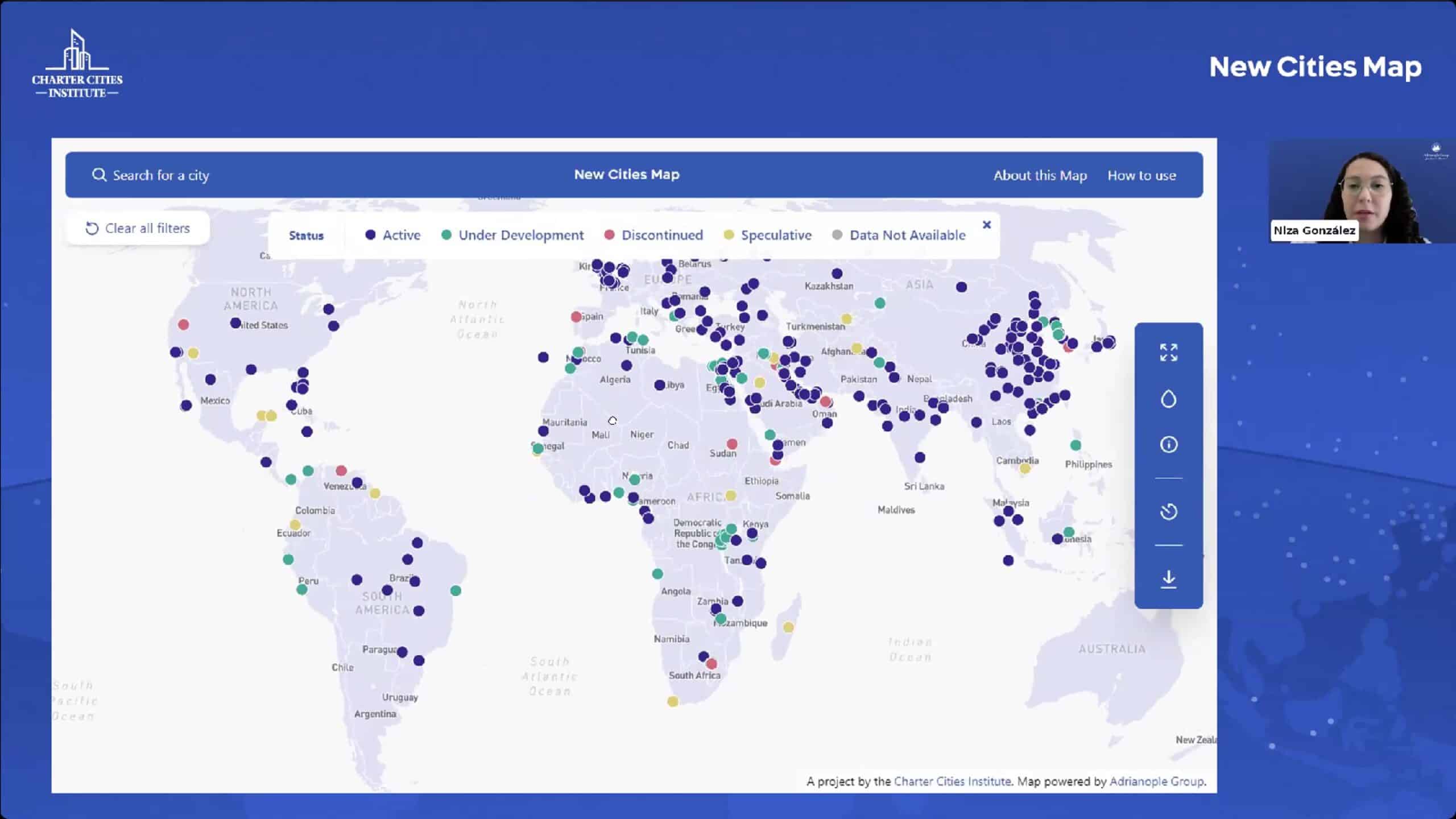 Niza delivered an engaging live demonstration of the New Cities Map. She showcased the map's impressive functionalities, illustrating how users can access comprehensive information about each New City. She provided insights on utilizing features such as the "size by" and "color by" tools. The map also offers the ability to visualize important elements such as ports, airports, and capital cities in relation to their proximity to the New Cities. Additionally, an intriguing timelapse feature allows users to observe the gradual emergence of these cities worldwide, providing a unique perspective on their development.
Thibault Serlet, Director of Research, Adrianople Group – The Blank Slate
Thibault delivered an insightful presentation during which he delved into the historical impact of New Cities on individuals and communities. He explored their contemporary significance and highlighted the relevance of this research in shaping a better future for urbanization.
In the past few years, New Cities have been announced all over the world. The interest in these cities comes from the impressive results they've had in previous years, such as Shenzhen in China. However, the idea of building a novel city from scratch is not new. We can trace it back to the Roman Empire (330 AD), with the relocation of the capital city from Rome to Constantinople, a city that survived despite the loss of Rome to the Ostrogoths. The leaders of today affirm that New Cities can help us fight against climate change, overpopulation, and poverty. However, we can also find a streak of authoritarianism running through the history of these projects.
In the modern day, authoritarian leaders come up with massive planned cities initiatives, such as the Shimizu Mega-City Pyramid or X-Seed 4000. These forced urbanization projects tend to have a relocation component that has disastrous results for the lives of those who are relocated, as well as for those who refuse relocation or adoption of the city's new policies. It is important to note that a city built by private actors can be just as authoritarian as those built by dictators. Nonetheless, there is another side to New Cities – one filled with individuals who believe that cities and urbanization can be used to liberate people by allowing them to organically build their own new cities.
Thibault ended his presentation explaining how cities developed under authoritarian planning may undergo a transformative process where they evolve beyond their initial authoritarian nature. Take the case of Shanghai, which underwent three separate centrally planned constructions and ultimately emerged as a thriving economic powerhouse in China. This means that centrally planned cities can take on various forms, whether they be privately or publicly driven, authoritarian, or embracing greater freedoms, depending on the underlying objectives guiding their design.
His presentation can be seen here.
Upcoming Content


Join us as we explore new horizons, discover untapped possibilities, and shape the future of urbanization. Stay tuned for more updates, as the Charter Cities Institute continues to revolutionize the way we think about cities and their potential for growth, innovation, and prosperity.
Follow the Charter Cities Institute and the New Cities Map on Twitter (@NewCitiesMap @CCIdotCity) and Instagram (@newcitiesmap @ccidotcity).