Washington, DC
December 16, 2022
As the Nation's Capital welcomed leaders from throughout the African continent this past week, a delegation from the Rwanda Development Board (RDB) executed a historic and game-changing Memorandum of Understanding (MOU) with the Washington DC-based Charter Cities Institute (CCI). The MOU, formally signed at the Embassy of Rwanda, will strengthen policy implementation for the benefit of the people of Rwanda in particular, and the people of Africa more generally.
Specifically, the objective of the MOU is to establish formal cooperation and partnership between RDB and CCI in order to implement a plan named "Africa's NXT50 Cities Coalition – Road to Kigali 2023." This plan includes three elements: (1) jointly building Africa's NXT50 Cities Coalition (NXT50); (2) planning and executing the Global Charter Cities Conference; and (3) establishing a catalytic fund for new charter city projects called the "NXT50 Cities Catalyst Fund." The MOU – and related activities – will not only strengthen ties between the two organizations, but will also serve as a launch pad for sustainable urban development throughout Rwanda and the entire African continent.
Clare Akamanzi, CEO of RDB said, "this [partnership] made sense because if you've been following what's happening in Rwanda, I think really trying to do urbanization properly is something that we very much value. And it's so many pieces. I know you're looking at regulation, legal, and creating a platform to bring people together that are interested in building stronger cities."
CCI's Executive Director, Kurtis Lockhart added, "you need to have innovative thinking around urbanization, outside the box thinking. And this is why we could find no better partner than the government of Rwanda and the Rwanda Development Board. People look to Rwanda across the continent as a place with cutting edge policies, a place to find best practices to see if they work in their own countries, and so we couldn't be more proud of this partnership."
The organizations will begin work immediately on the activities outlined in the MOU, with the first ever Global Charter Cities Conference slated to take place in Kigali in late 2023. For more information about this transformative partnership, please contact CCI's Head of Communications, Michael Holstein.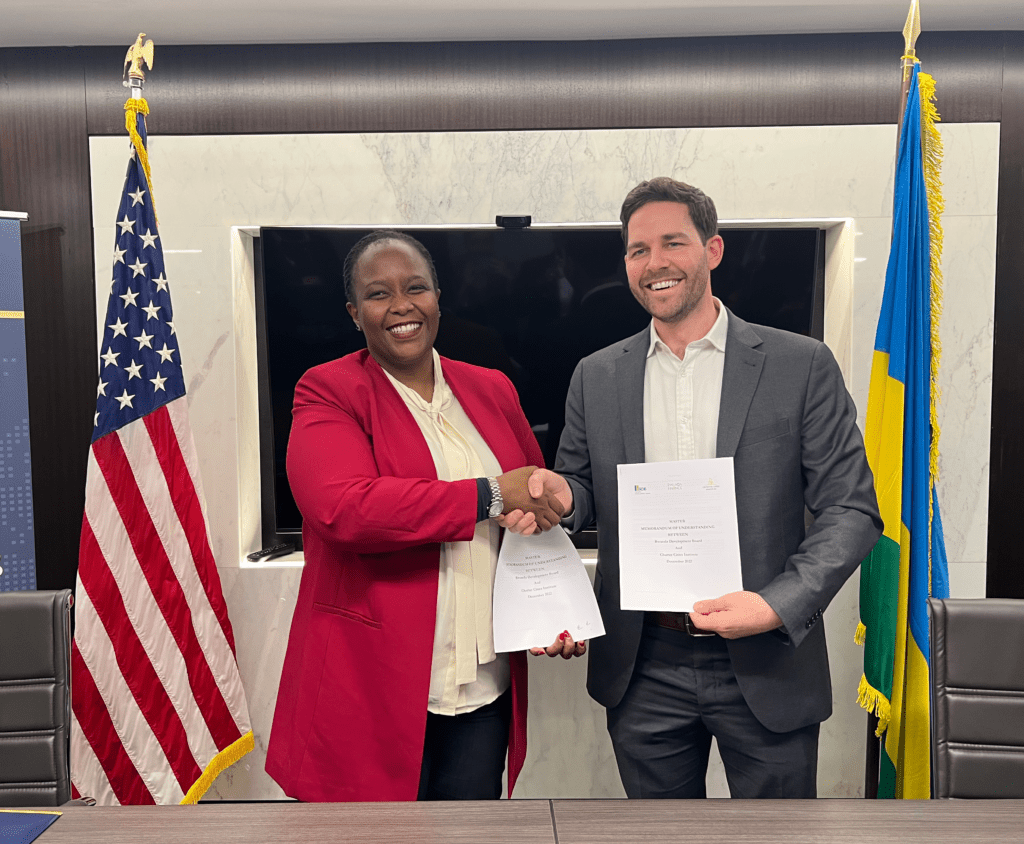 *****
About the Rwanda Development Board: RDB has the mandate to accelerate the Republic of Rwanda's economic development by enabling private sector growth; with RDB's key services including investment promotion, export and SEZ development, investment deals negotiation, tourism and conservation, skills development, and one-stop center services; and with RDB providing support throughout the entire investment journey to ensure Rwanda remains one of the best places to do business in Africa and the world.
About the Charter Cities Institute: CCI is an organization dedicated to empowering new cities with better governance that attract investment, spur business formation, boost job creation, cluster innovation, and in turn kick-start sustained economic growth that lifts tens of millions of people out of poverty and into prosperity.