between a wall and a car
Matt came up with the idea that we should do a blog post series on walking (30 minutes from our front doors) in the different cities we will be living in, holidaying in or working in over the next few months. I decided to do it in a series—first, Lusaka, where I am currently based for work. Second, Nairobi, where I am going to be around holidays. Third, Alexandria, my hometown, where I grew up and where I will be after my holidays. Jet setter, I know!
If you continue reading till the end of the blog post, you will get an exclusive Lusaka recommendation.
Choosing to walk!
Okay, Lusaka, where should I start? I have been living in Lusaka for almost a year, can you believe it? Well, I can. I am not too fond of sports, all of them. However, I realized a couple of years back, as I am fast approaching 30, that I need to move. So walking became my sport of choice -gym rats leave me alone I am doing my best-. I generally love walking in cities, so when I moved to Lusaka, I decided to find a house under a 40-minute walk to our offices in Rhodes Park, so I could walk to and from work every day. While I have walked a lot, walking to work for 40 mins every day was a new year resolution that never quite became a reality.
Walking from Mass Media (where I live) to Rhodes Park (where our office is) is usually a 40-minute walk, or 35 minutes if I have breakfast before leaving the house and it is not so sunny. Mass Media and Rhodes Park are both suburbs of Lusaka, with reasonable proximity to "town" (The Central Business District or CBD). Those two neighborhoods of Lusaka are often quiet; you don't hear anything, just cars. You also don't see much, just cars and walls, always walls, what I like to call "A walk between a wall and a car" -I will elaborate on that later.
The Streets…
The trip from home to work requires me to walk three main roads; (1) Thabo Mbeki Road, (2) Nangwenya Road, and (3) Addis Ababa Drive. First, Thabo Mbeki, a long road that cuts through Mass Media and connects it to East Park Mall and Alick Nkhata Road; primarily residential, the road is home to several offices. Reaching the intersection between Tabeo Membaki and Nagwenya Road, you can find roadside sellers of local crafts, sometimes even making the crafts themselves.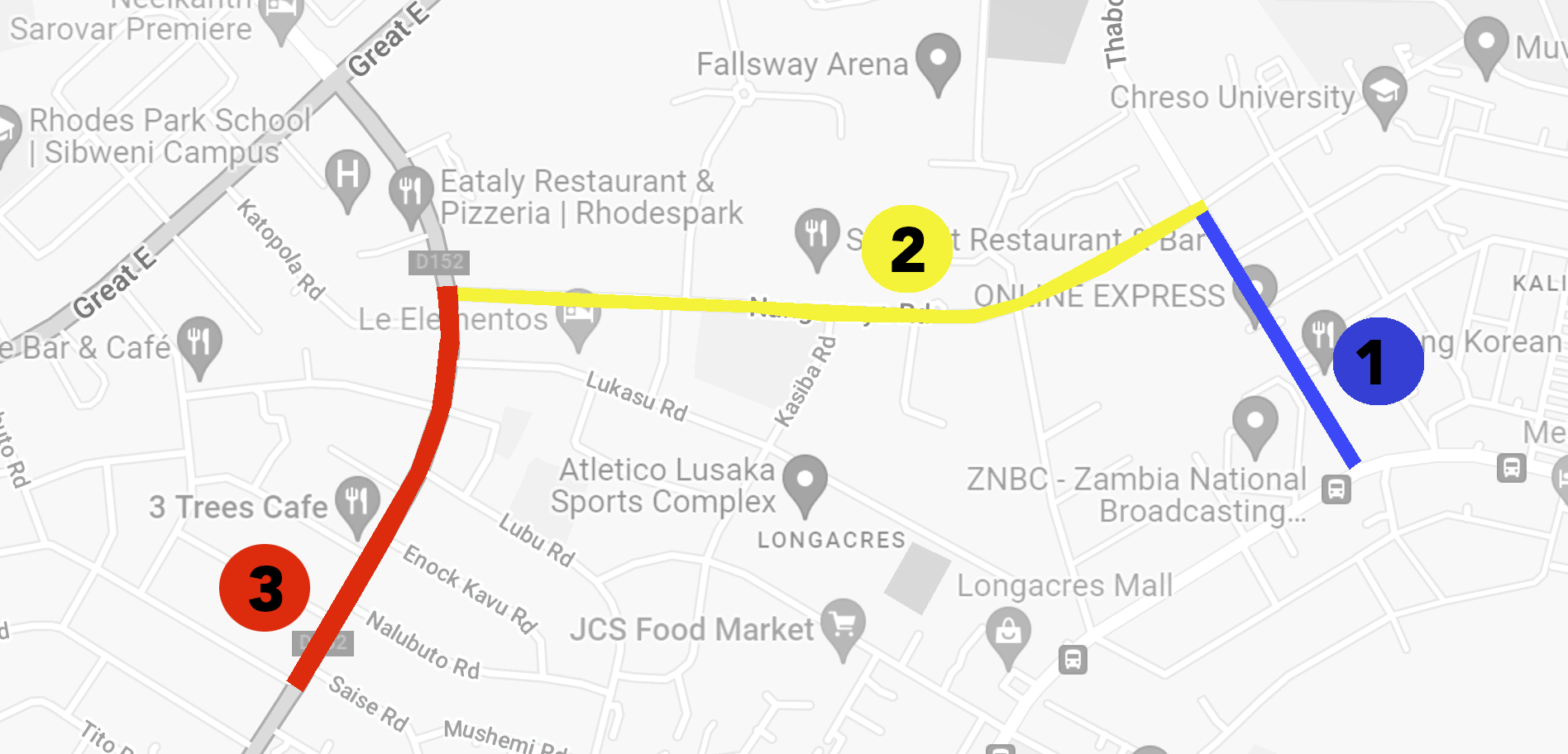 Walking route from 1) Thabo Mbeki Road to (2) Nangwenya Road to (3) Addis Ababa Drive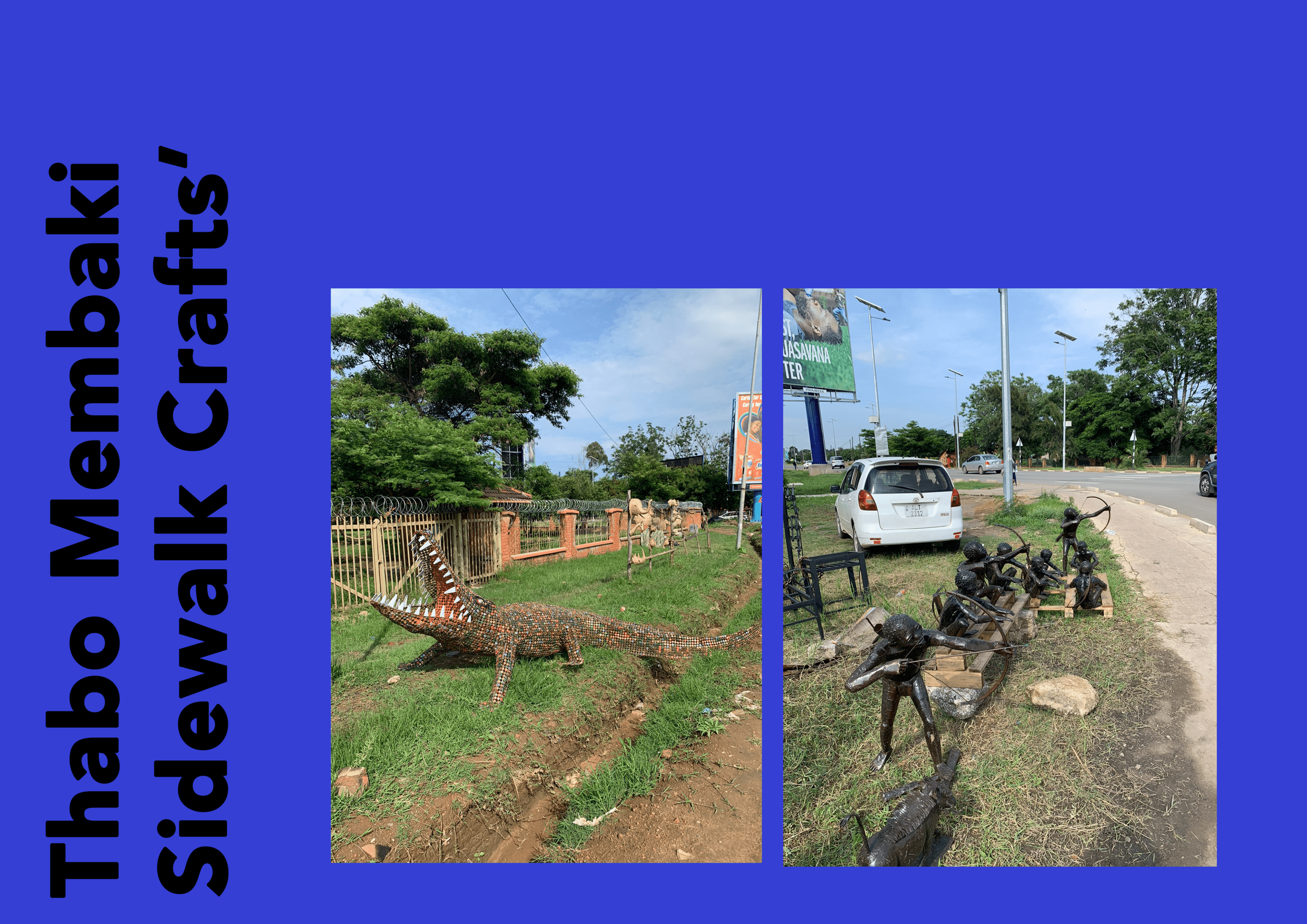 The Nangwenya Road will show us in detail the " walk between a wall and a car" scene I was semi-ranting about earlier. First, let's start with housing and density; on both sides of the road. One can find detached and semi-detached houses, one or two-story high and, of course, behind a wall. You can also find different land uses along the road, not just residential, like; the forest hospital, a couple of restaurants, a Toyota dealership, and the International School of Lusaka (ISL). And you guessed it right; everything is behind a wall and two or three stories high. As a lover of architecture and a hater of cars not interacting with architecture, the lack of mixed-use development and density makes my walk dull.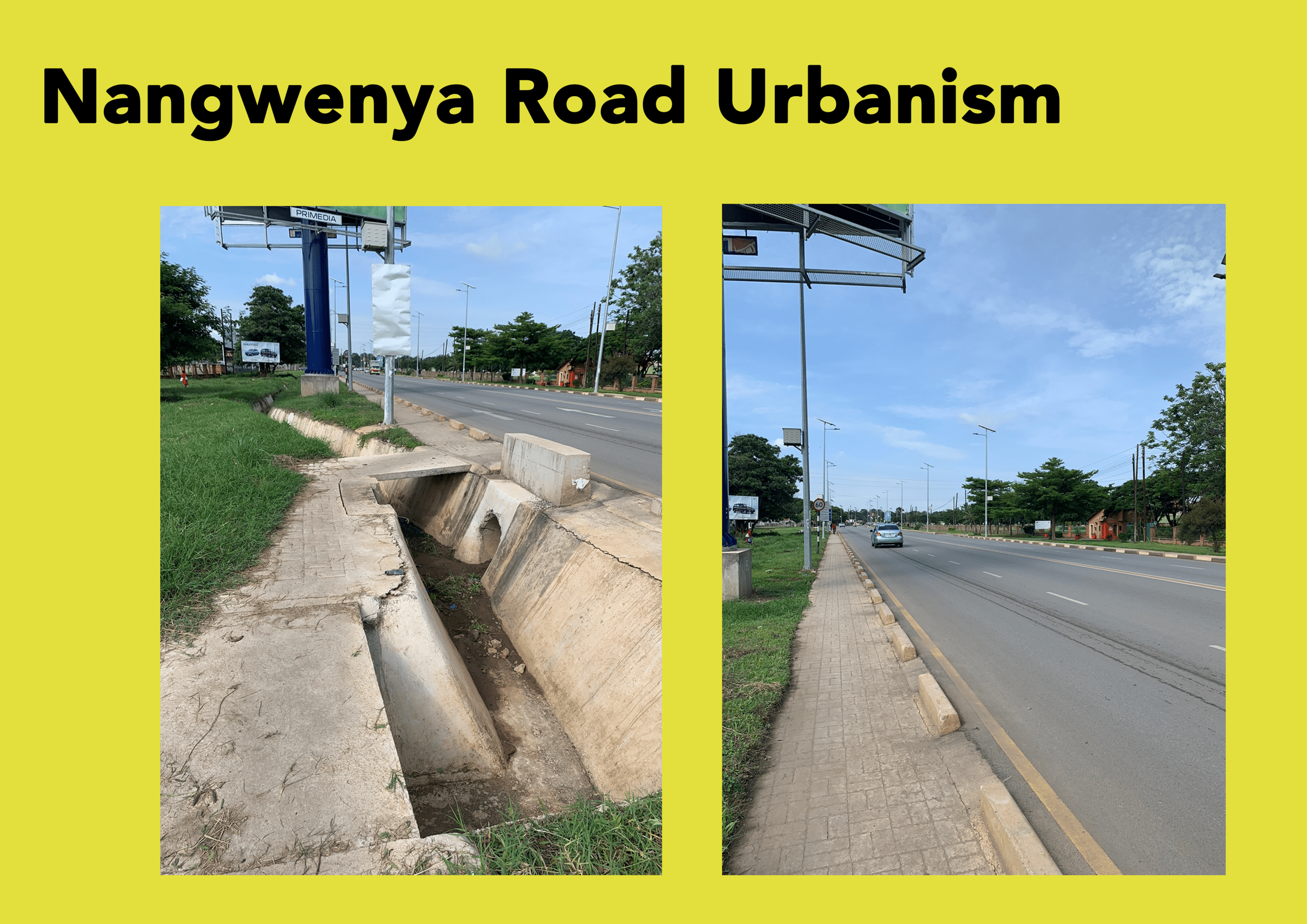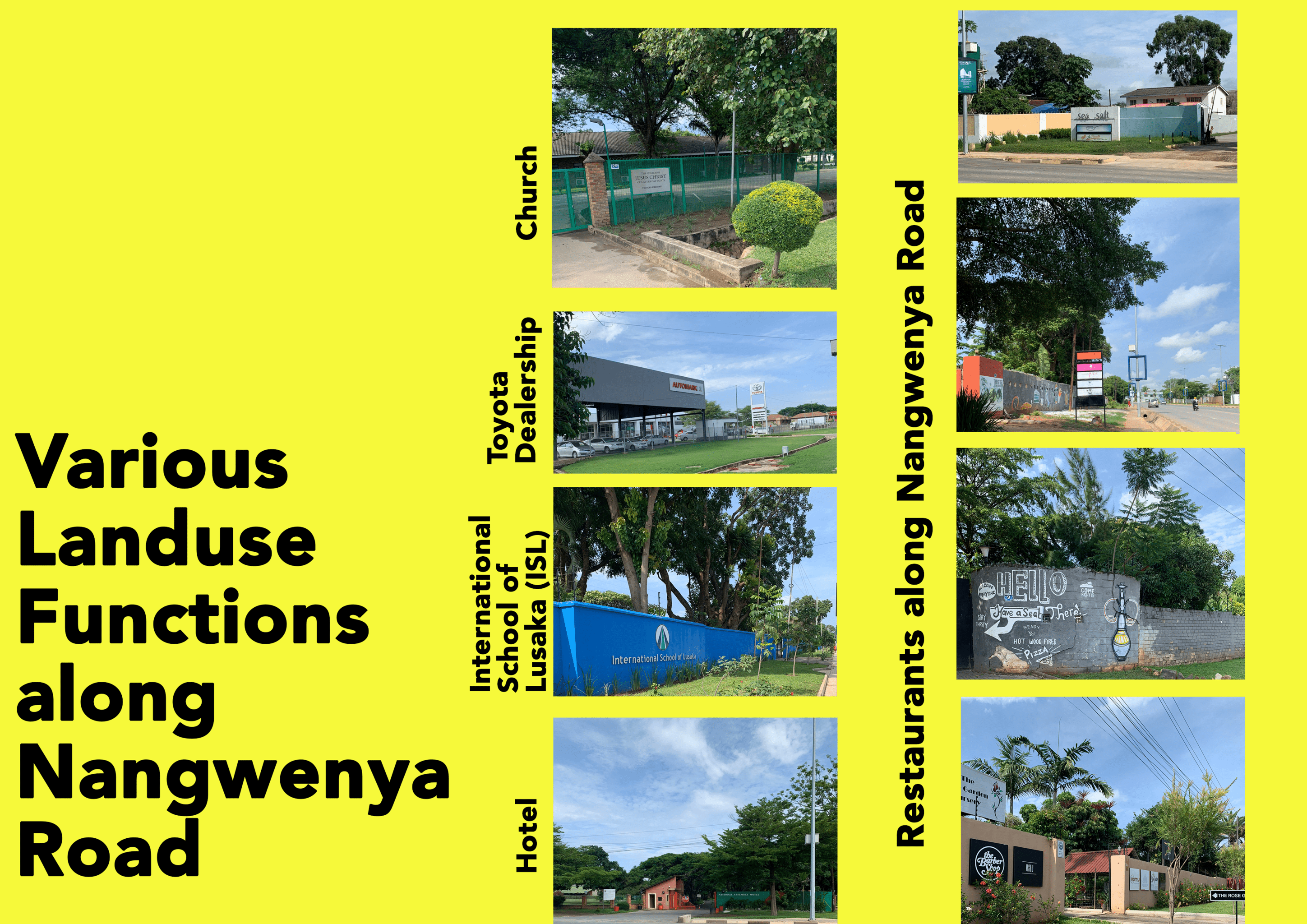 Now we are at Addis Ababa's drive to; being a main road doesn't change the density much. While more firms are evident on that road, the density[1] remains the same, one or two stories high. And again, walls and cars (did I mention I hate both). The walk is slightly different; for once, amazing trees give a much-needed shade from Lusaka's sun, especially on the right side. The sidewalk pavement is also different; mostly, it is not paved, and you walk on dirt. It gets very muddy and slippery in the rainy season.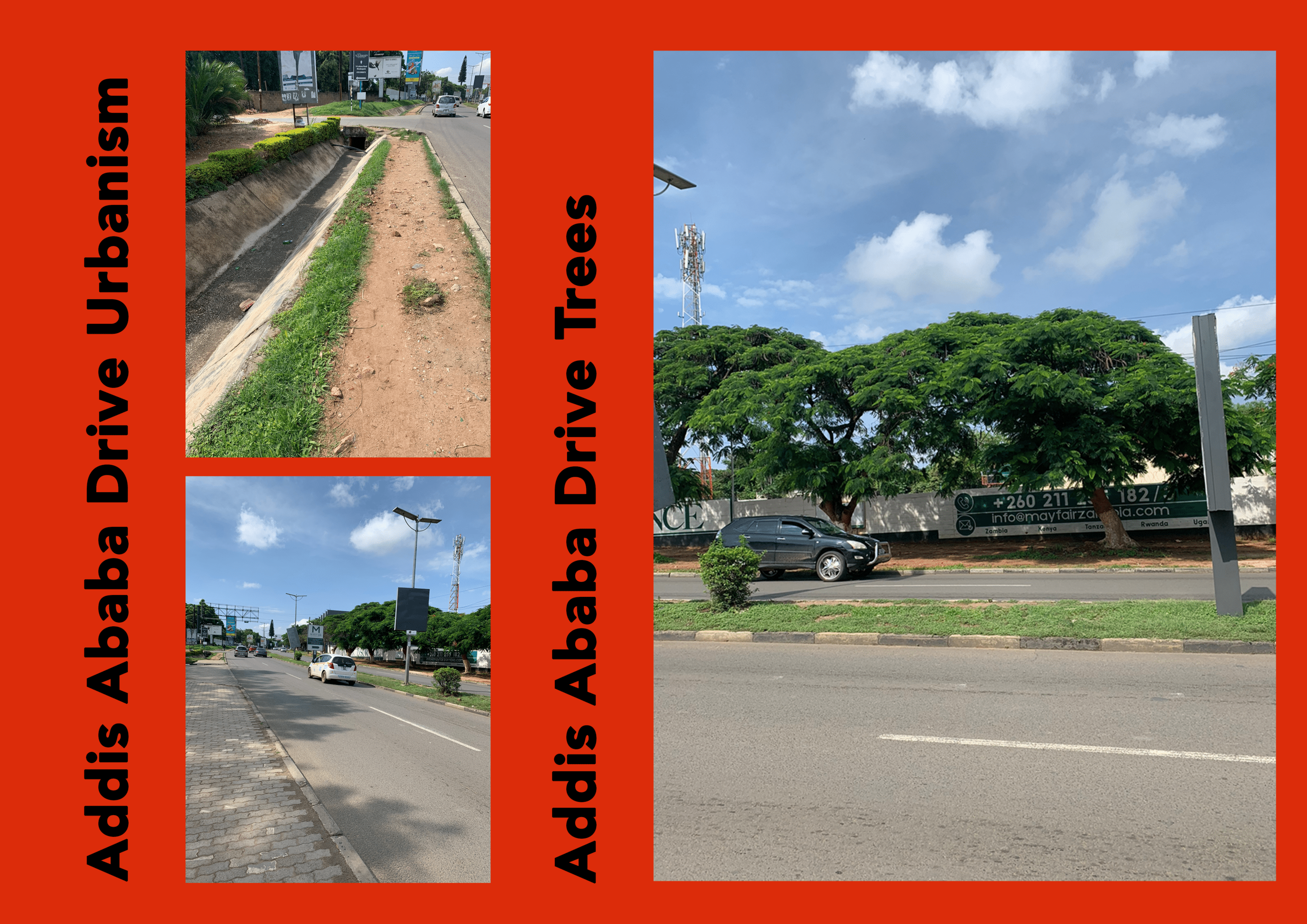 During my walk, I am not alone in the streets; there are always people walking, and some even waving at me randomly in the street. I am not friendly, I won't wave back. Extreme weather conditions and my laziness get between me and walking every day. I will discuss laziness with my therapist and extreme weather conditions in this blog post. The roads become slippery and muddy during the rainy season, so walking is a safety hazard. For me personally, extreme heat doesn't work as well; I had multiple sunburns while walking to work earlier this year.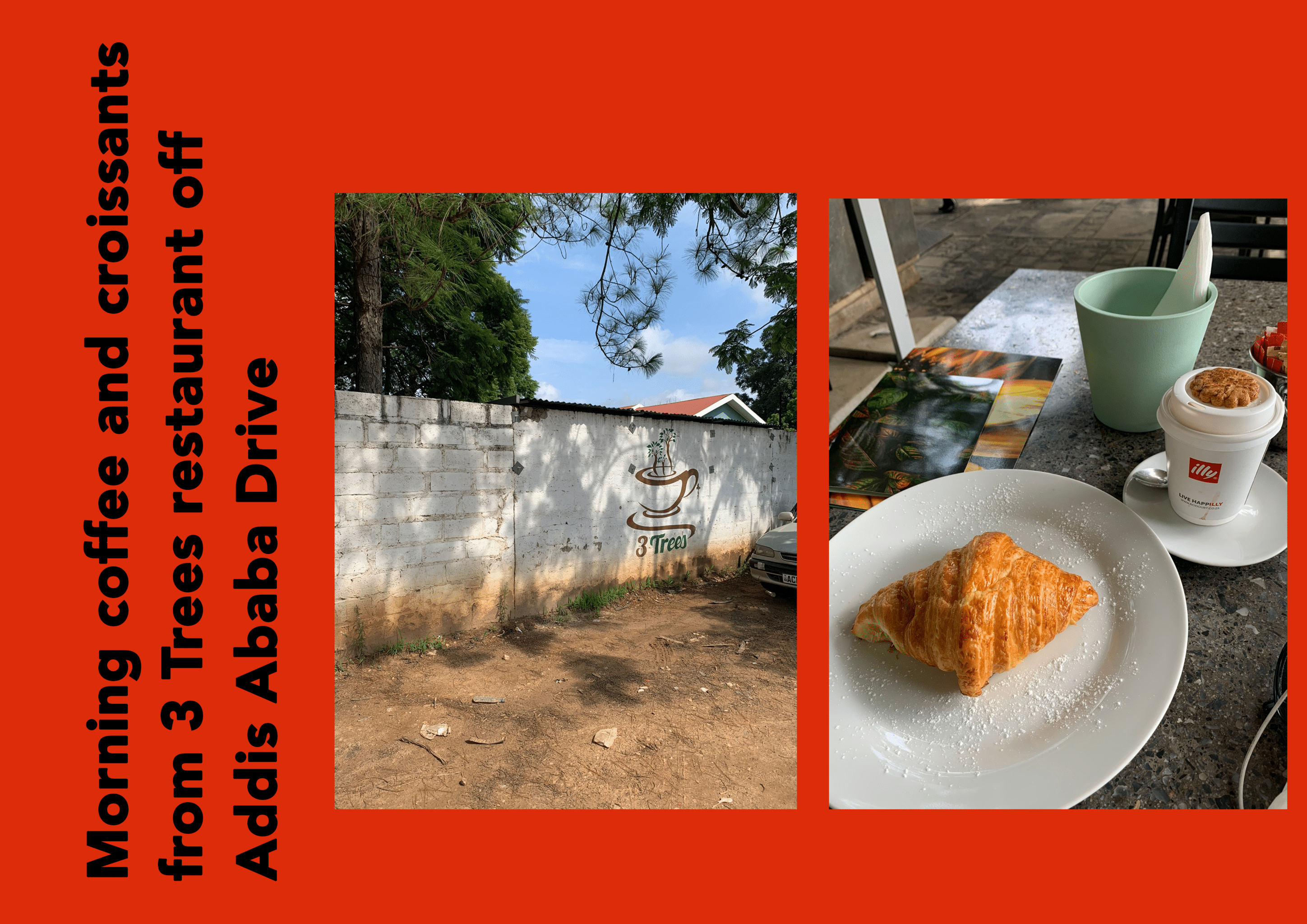 Had to stop for coffee before reaching the office
Can I cycle to work?
Yes,
maybe,
well, no!
There was one lady I saw multiple times cycling on Nangwenya, but since the rainy season started, I don't see her anymore. There are no bike lanes on the three roads I described above. Cyclists often opt to cycle on the sidewalk next to the drainage system instead of on the street. I am not the best cyclist to be honest, fell off bicycles more times than I would like to admit, so no, cycling is not an option for me.
Then how do I get to work? On lazy days, or when I wake up late, I usually call a Ulendo or a Yango; the uber local services. The drive costs around 40 Kwacha, equivalent to 3 Euros. Following maps is a big challenge for drivers. You can always find a car day round, even on the long nights I often spend at the office. Public transportation doesn't connect the two areas. So either walk or call a taxi.
Moving forward…. Walking ahead
I was sort of "urban" depressed the first two weeks I was here (I relocated for work from Washington, D.C). Trying to understand why; I realized it's the "between a wall and a car" everyday walk to work and the lack of open green spaces where I can read my books on Saturdays -I wrote a paper on public and green spaces in Lusaka in the joruanl of public space if you want another Lusaka urban rant.- I am slowly getting used to Lusaka's urbanism, or lack thereof, and I am not so depressed anymore. Well, at least of the urbanism, personal life, that's another issue.
Lusaka is an archi-type southern African city with low-rise urbanism and low prodicitivity labor markets and faces many infrastructure issues. More mixed-use dense development would definitely do Lusaka good; it would foster an exchange of knowledge, help create more productive economies and, most importantly, make my walks more enjoyable.
If you made it here, congrats, you have walked a 30-40 minute walk with me today from home to work. And as promised, I will spill a little Lusaka secret. Do you like pizza? Do you know what the best pizza place in town? After lots of on-ground research and ordering from every pizza place in town, La Piazzetta on Nangwenya Road next to Sea Salt is the best pizza place. Order a Diavola and let me know.
[1] Denser cities enjoy higher productivity, shorter commutes, lower cost provision of public services.