I step out from my old apartment building and turn right, up Rhode Island Ave, towards 14th Street and Logan Circle. It is February and the scraggly trees that line the wide, brick sidewalk stand in stark contrast to the bright winter sky. It is an unusually warm day for the season in Washington, DC and the streets bustle with people completing their Sunday errands, walking dogs, or brunching with friends late into the afternoon. I pass by the iconic, now-empty storefront of the old Barrel House Liquors, squeeze through a line of people queued outside a popular gay bar, and dodge a crowd standing in front of a busy dim sum restaurant before turning onto P Street.
While 14th Street is often considered the main artery of the Logan Circle neighborhood, the stretch of P Street between 15th and 12th – with its steady hum and understated reliability – may very well be its heart. Within these three city blocks, one walking down P Street perhaps unwittingly passes through not only a microcosm of the area's history but also its residents' vision for the future.
Making the elusive road-crossing signal in stride, I amble through the crosswalk and into Logan Circle. This historic park sits in the middle of the last residential traffic circle in DC – a city with a plethora of roundabouts, which can be difficult to navigate for those unaccustomed to chaotic drivers and confusing signage. It is a well-maintained open space with towering trees surrounding a statue of John A. Logan, a Union Civil War hero who later became a Senator for Illinois. Despite the unseasonably spring-like temperature, there are few people idling on the grass and benches. In mid-April, once the warm weather comes to stay, the park fills with picnickers, families, dogs, and – if you're lucky – talented local musicians playing in the common space. On such days, people like to get comfortable and stay for hours. I once saw a group of college-aged kids lounging on a sinking sofa and armchairs they had hauled out from their house nearby.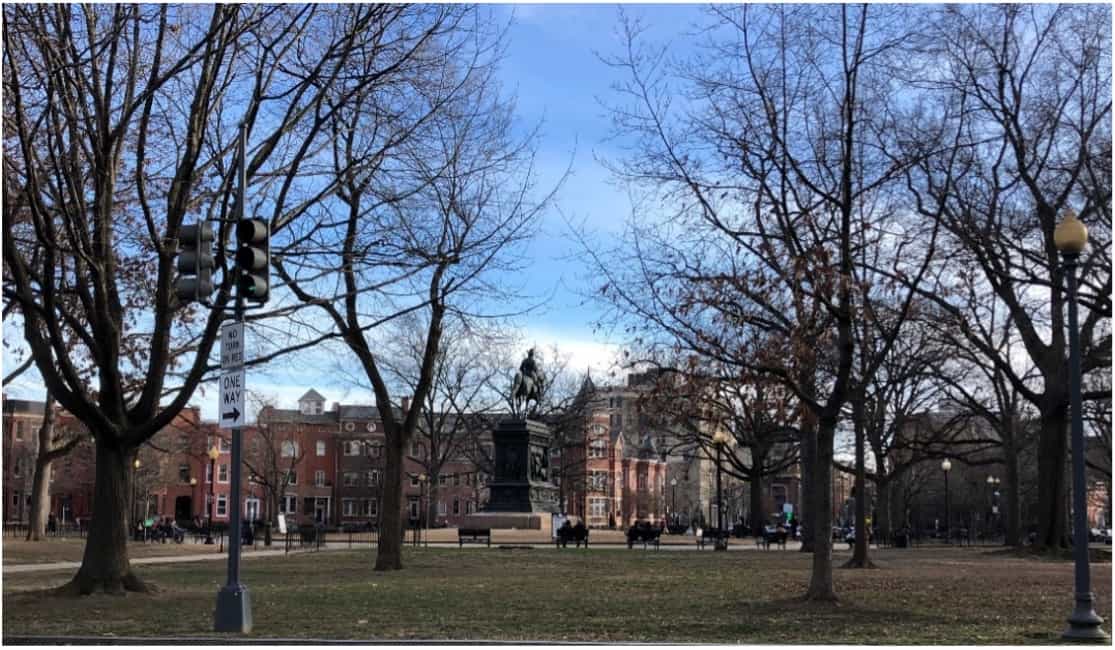 Originally dubbed Iowa Circle at the end of the 18th century, the area remained underdeveloped woods and farmland for many years, before becoming home to Camp Barker – a refugee camp for slaves escaping to DC during the Civil War. A historical marker erected near the circle explains that "hundreds of [new freemen] were housed…in long two-story barracks…[and] found jobs that supported the war effort." It also describes President Lincoln's frequent visits to the site where he "enjoyed listening to the singing during the evening under the trees" and sometimes "sang along in a raspy monotone."
After the war, developers began to ring the circle with the ornate Victorian brick townhouses that stand to this day. Many of these homes now boast small plaques to mark where prominent figures once lived: in 1935, Charles "Sweet Daddy" Grace, the founder of the United House of Prayer for All People, moved into 11 Logan Circle; in 1938, Belford and Marjorie Lawson, attorneys who would win landmark civil rights cases before the US Supreme Court, moved in a few houses down, at 8 Logan Circle. The John A. Logan House – the former residence of the great congressman from whom the circle derives its name – stands, a sprawling mansion, on one corner of the intersection between Logan Circle and P Street. Nearby, a large sign marks a stop on the Logan Circle Heritage Trail, a walking path that winds through the neighborhood and its complex, fascinating history.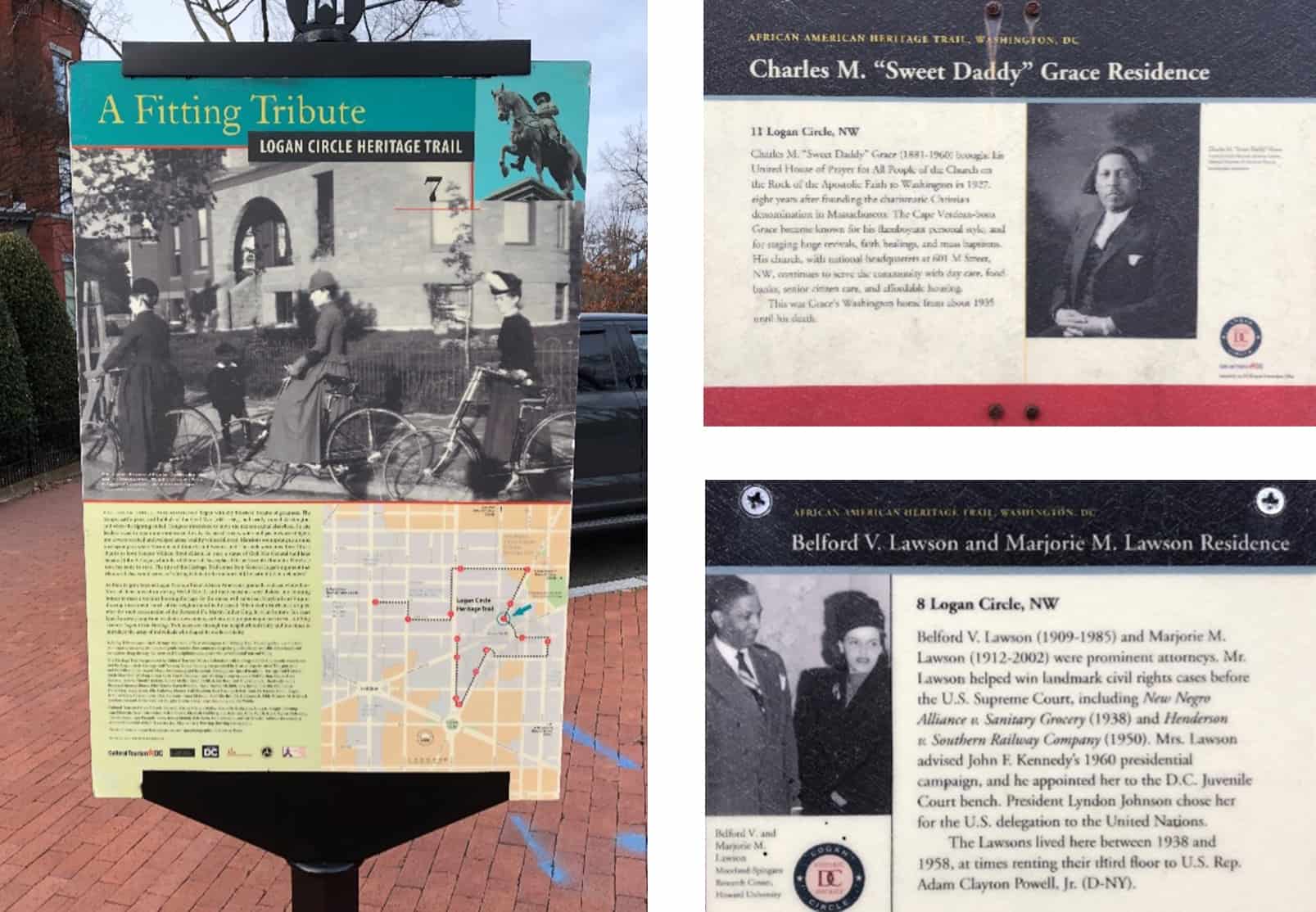 Leaving the park, I continue my stroll down P Street, passing rows of painted brick townhomes before coming upon the mammoth Studio Theatre. If the blazing 'Studio' sign hanging out front doesn't catch your eye, the sheer size of the building certainly will. The Studio Theater now monopolizes one corner at the intersection between 14th and P Street, stretching down the block to consume the two properties next door to its original location. The theater has been a staple of DC's art scene since it was opened by Joy Zinoman in the late 1970s – a period when rampant drug use and prostitution thrived in the economic vacuum left by the suburban exodus of the 1950s and the lasting destruction of the 1968 riots. During this time, the lower 14th Street corridor was well-known as Washington DC's 'red light' district. Frona Hall recalls: "At the time of the World Bank's annual meetings, you'd have limousines up here [on 14th Street] … it was a sort of tourism – seedy tourism." Crossing 14th Street, I come upon another vestige of this era: the New Vegas Lounge, a squat, proud building nestled between two high-rise apartments. A blues haunt that was also once a strip joint and a regular hangout for Rayful Edmond – the infamous kingpin of DC's cocaine trade in the 1980s – the bright yellow New Vegas Lounge remains a popular destination for live music. Passing the little club, I imagine that I can hear the up-tempo lilt of the sonorous Out of Town Blues Band, who will be playing later in the evening.
Throughout the 1980s and early 1990s, the neighborhood's unique architecture and affordable rents attracted young activists, musicians, and artists, such as Zinoman, who opened theaters, concert venues, and galleries in 14th Street's abandoned car showrooms and dilapidated houses. In the 1980s, the neighborhood also established itself as a haven for the LGBTQ+ community with the opening of the Whitman-Walker Clinic – a nonprofit center that provided much-needed "medical, counseling, nutrition, and legal services under one roof" through the height of the AIDS crisis. With the opening of venues such as the Black Cat in 1993, the emergence of a lively gay nightlife scene, and the growing abundance of restored or new housing, Logan Circle gained significant popularity.
The influx of residents, organizations, and private developers led to the neighborhood's rapid gentrification through the 1990s and early 2000s. Over the past 20 years, rents have skyrocketed, pushing out some long-time residents who can no longer afford to live in the area. Across the street from the New Vegas Lounge, a resident- and developer-led lobbying effort culminated in the opening of a Whole Foods Market – an upscale, organic grocery store – in 2000, marking the beginning of a new phase in the neighborhood's commercial history. To the demise of the locally-owned Metro Mart, the P Street Whole Foods was immediately popular. As I walk by, people hurry in and out, one after the other, keeping the automatic glass doors in a state of perpetual frenzy. Now, as large corporations and expensive designer boutiques follow Whole Foods' lead and continue to file onto 14th Street, many lament the neighborhood's changing character, which some perceive as more corporate, sterile, and exclusionary.
Nonetheless, as the area continues to change, Logan Circle's community leaders and residents have found creative ways of keeping the neighborhood's history, culture, and artistry alive. On my walk, I pass a multitude of public artworks which adorn the walls, streets, and utility boxes, imbuing P Street with an innate vibrancy. This is no coincidence; it is part of a concerted effort by local organizations, businesses, and artists. In 2020, the Logan Circle chapter of District Bridges – a grassroots organization that encompasses a number of Main Street programs throughout the city – the Logan Circle Community Association, and Advisory Neighborhood Council 2F started an initiative called "Let's Paint the Streets." The project aims to "beautify" the Logan Circle neighborhood with public artworks to "depict a cohesive story that preserves the community's history and expresses its emerging culture" in collaboration with residents, artists, and small businesses. Now, 16 utility boxes sprinkled throughout the area proudly display the work of talented artists, helping to shape the neighborhood's identity and heightening civic pride in the community. Commissioned public artworks such as the 10,000 Buddhas Mural on P Street and the vibrant mural of Justice Ketanji Brown Jackson on 14th and S Street, along with privately-maintained installations such as the Watermelon House and the Barbie Pond also contribute to the neighborhood's unique civic culture.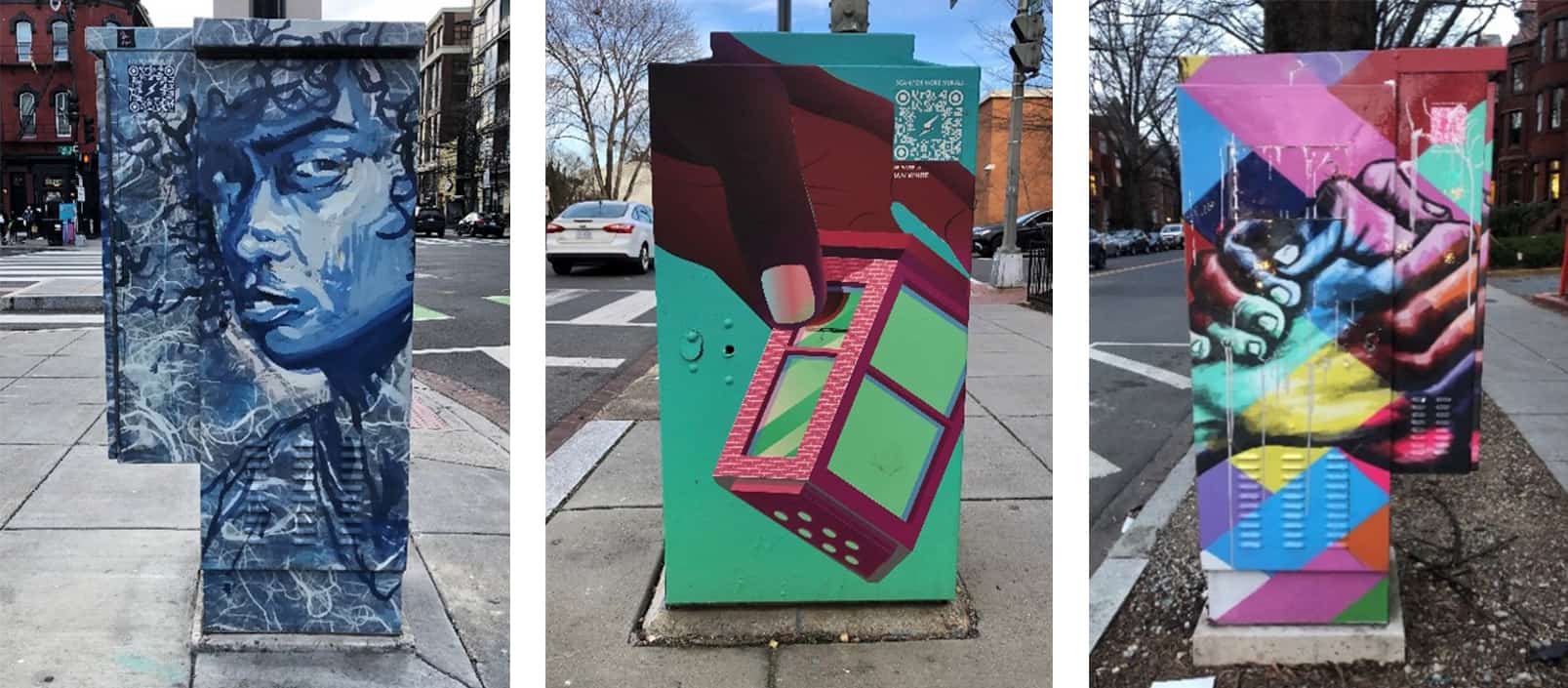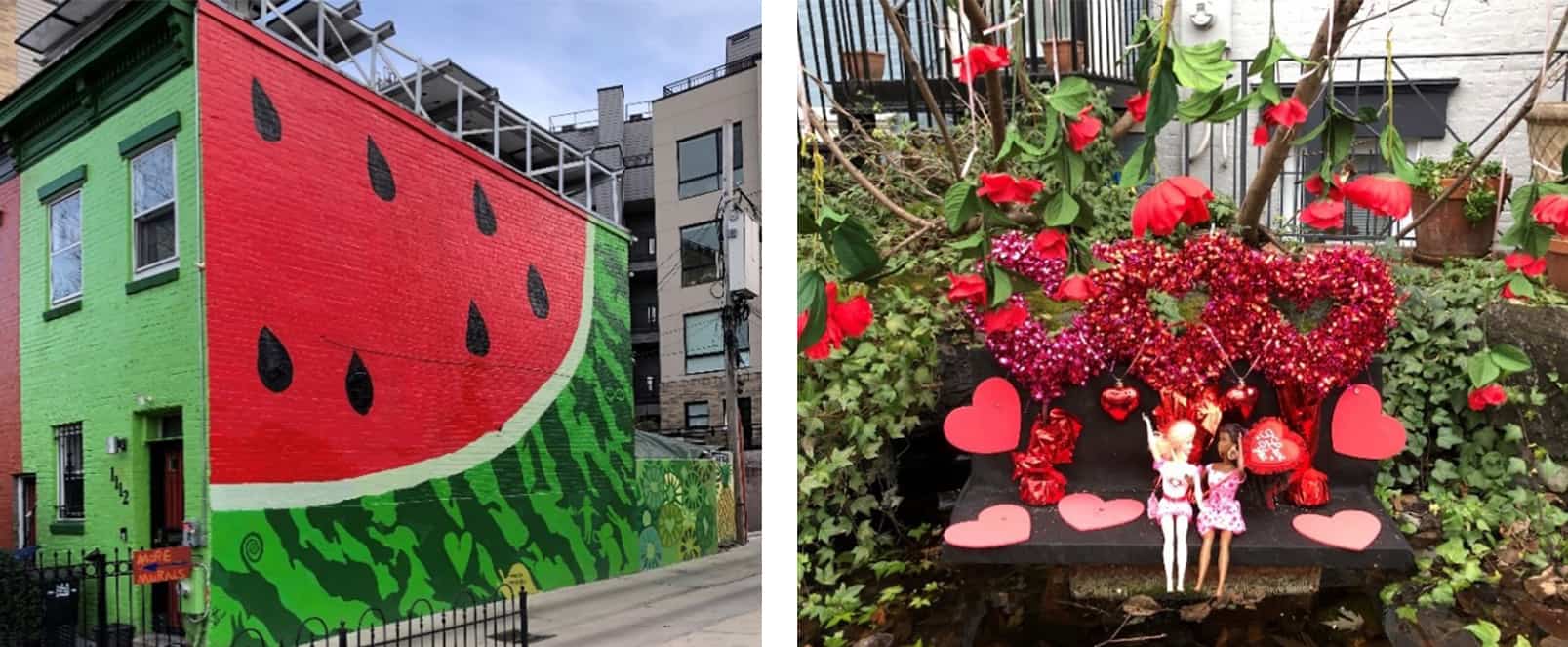 In addition, the District Department of Transportation (DDOT) has worked to make Logan Circle more pedestrian-friendly through Mayor Muriel Bowser's Vision Zero initiative, which intends to "transform DC's roadway safety efforts…[by] working closely with community members to identify problems and build solutions." Part of this effort involves the creation of bike lanes and curb extensions which improve "visibility for people both crossing the street and driving or rolling by… [while also providing] space for the bike, scooter, and other mobility device parking." However, in an innovative twist, the DDOT has partnered with artists throughout the city to transform the plain, often indistinguishable curb extensions into colorful street murals. One such installation at the intersection of 15th and Church Street, one block up from P Street, pays homage to Alma Thomas – a visionary American artist who lived near the intersection – while also celebrating the neighborhood's proud LGBTQ+ community.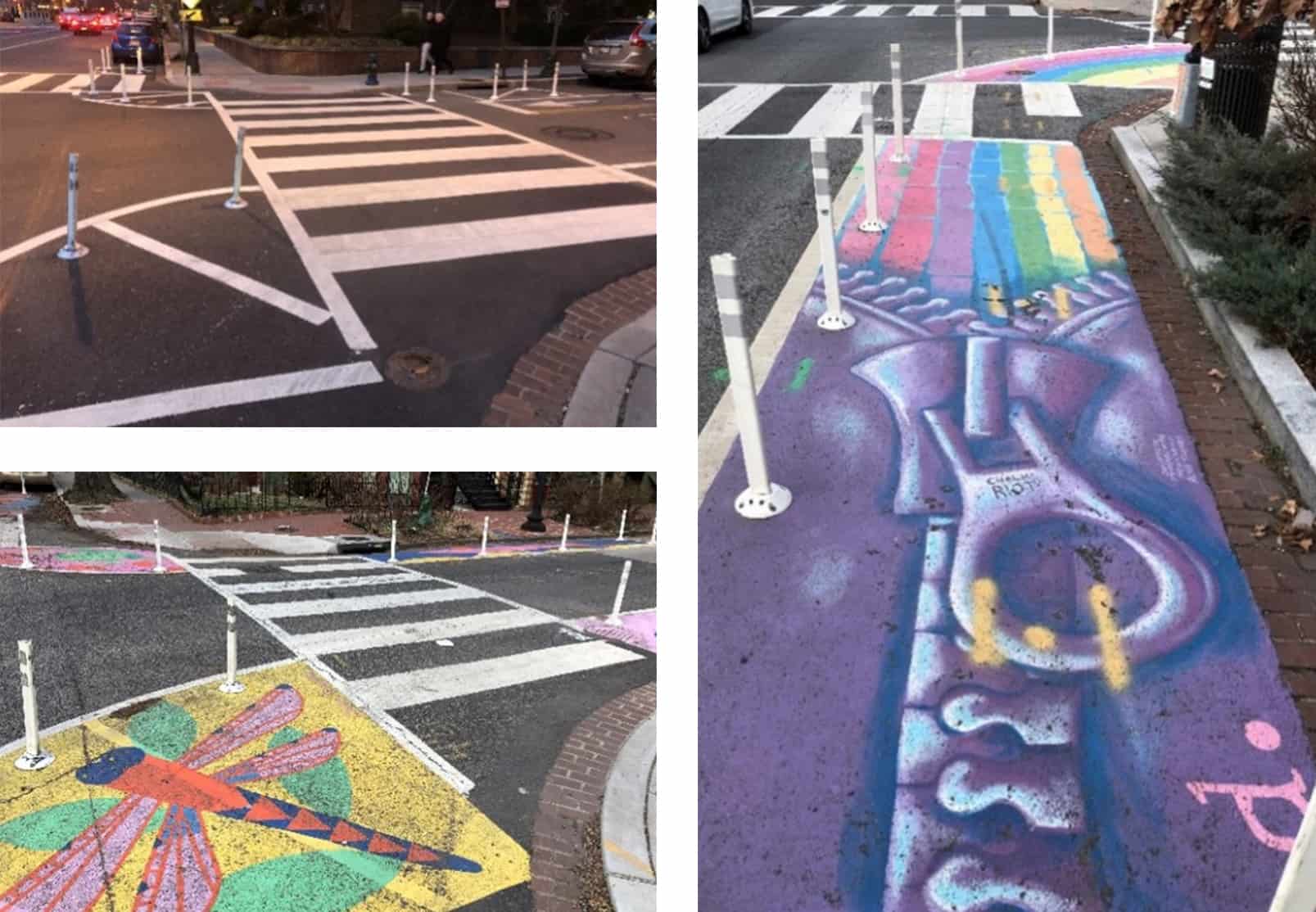 Nowadays, it is easy, even delightful, to walk down streets, like P Street, which was once considered seedy; public artworks and historical markers have replaced adult movie advertisements; it is much more likely that a limousine is dropping off a well-to-do patron at Le Diplomate than picking up an intrepid sex worker. Cities, and the pockets contained within them, are dynamic and ever-changing – sometimes for the better, sometimes for the worse, and often falling somewhere in between. Logan Circle is no different. It is a neighborhood that has held many identities over the years. Now, as it transitions yet again, local associations are working hard to create a bastion of community amidst rapid economic development in a city where national interests tend to dominate civic spaces.
There is an essential and often overlooked role of local government: to cultivate a sense of local identity. As evidenced in Logan Circle, there are many tools governments and associations may use to further this goal. Maintaining open park spaces for public gatherings invites citizens to commune and exchange; protecting and celebrating history instills a sense of neighborhood pride and respect; implementing public art initiatives tacitly invites residents and local business owners to participate in forging a shared future. Managing these 'public emotions' is an integral aspect of effective governance at any level, but particularly at the community level, where such initiatives are often most poignantly felt and can drastically improve residents' quality of life. At the very least, as any visitor to Logan Circle will tell you, it is nearly impossible to stumble upon a house painted a giant, neon watermelon, a pond overflowing with decorous Barbies, or a color-blocked asphalt rainbow without cracking a smile.