Last summer, my wife and I moved from an apartment in Washington, DC to a house in Fairfax, Virginia to avoid a large rent increase, have our own dedicated offices, and get a yard for our dog. Fairfax is roughly 18 miles west of downtown DC and may be most well known as the home of George Mason University, where I went to grad school. For this blog, I walked from my house to downtown Fairfax, while also taking a little side trip with my dog to a new housing development going up on the opposite end of my neighborhood. I'll highlight some of the good things about Fairfax (and Northern Virginia generally) as well as some of its problems or things I think could be improved.
Exiting my neighborhood, a mix of 1950s and 60s-style split levels, some older pre-war houses, and 1980s townhouses, we find ourselves on Main Street (VA-236). Outside of downtown Fairfax, which we'll get to soon, Fairfax resembles much of the rest of Northern Virginia. Although this particular stretch of road has some greenery and is walkable to downtown, Northern Virginia is dominated by the "stroad," a portmanteau of "street" and "road" which refers to a relatively high-speed road with many turnoffs, limited safety features, and is generally not amenable to pedestrians.
After walking for about 20 minutes, I reached downtown Fairfax and my destination, the excellent De Clieu Coffee & Sandwiches. Good sandwich shops can feel hard to come by in and around DC, so if you ever find yourself in Fairfax, do stop in for a Super Club.
Old Town Fairfax has its roots at the turn of the 19th century when it was established as the site for a new courthouse. During the American Civil War, there were several minor engagements between federal and rebel forces in and around Fairfax, including the first land engagement of the war. Today, much of downtown Fairfax is pre-war (WWII, that is). You can see in the photos below that Main Street, as well as buildings on University Drive, resemble a classic pre-war American town. However, you can also notice something distinctly not pre-war, that being the commanding presence of cars. As a major crossroads in the area (VA-236/Main Street/Little River Turnpike and VA-123/Chain Bridge Road), Fairfax is easily choked with traffic. And while there is a town square to the other side of the Old Town Hall (white building with columns), Fairfax does not feel friendly to me as a pedestrian unless the city shuts down or limits through-traffic, as it will somewhat frequently do for community events. That being said, Fairfax is home to a number of lovely restaurants and other shops and businesses which play a key role in driving community spirit.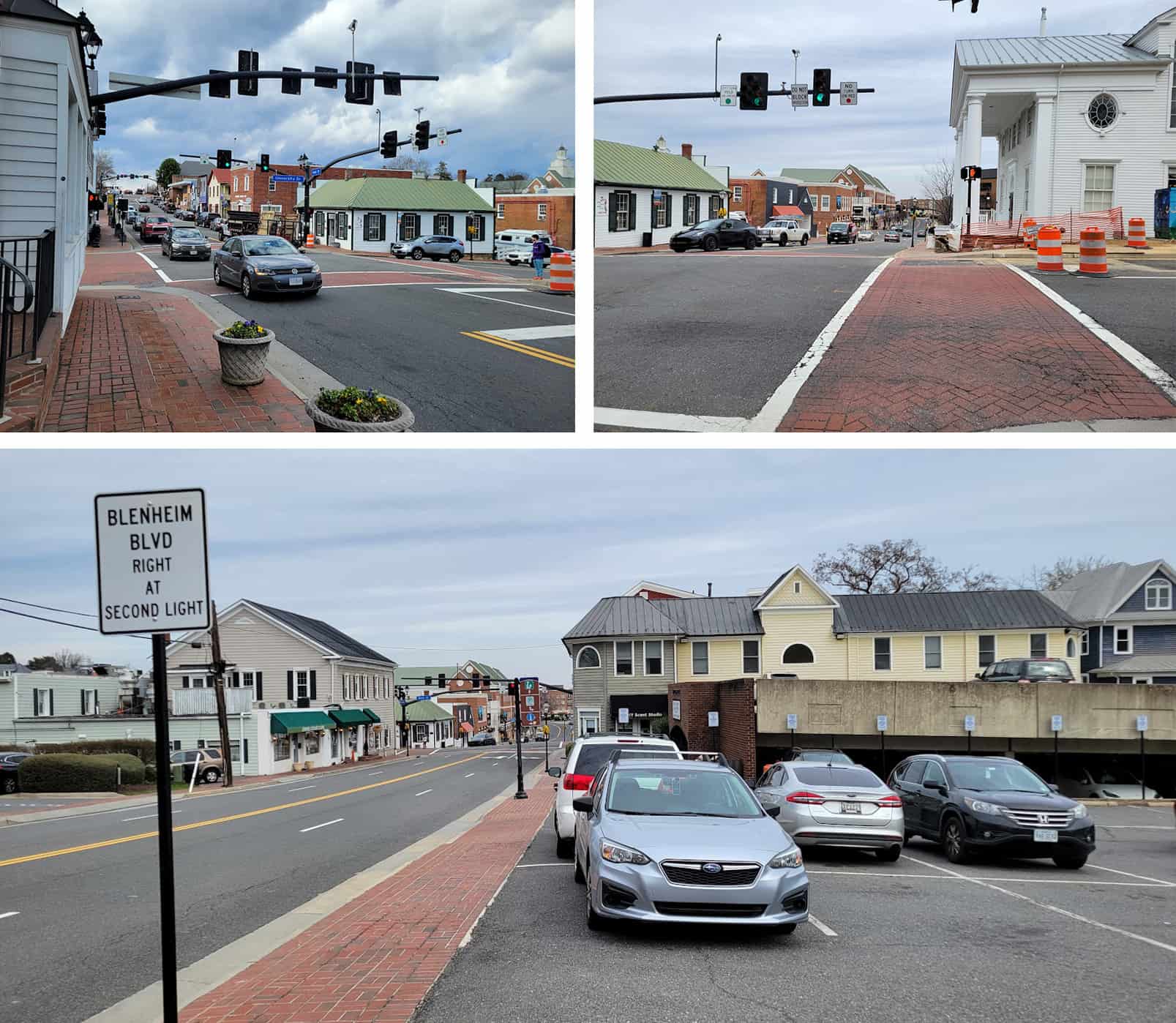 While some residents of Fairfax are within a 20-minute walk of downtown, the vast majority are not. This is reflected in the volume of surface-level parking present in Fairfax. Just up the street from where the previous photos were taken at the core of Fairfax is a surface-level lot, next to a two-level parking deck. You can see in the Google Earth screenshot below just how much land is dedicated to parking in Fairfax, reflective of the sprawling nature of Northern Virginia development. It is worth noting, however, that as far as Northern Virginia goes, Fairfax is among the most walkable communities outside of Arlington and Alexandria. There are townhouses within downtown Fairfax, as well as a new apartment building. For Fairfax to continue evolving into a more walkable community, densification of the urban core and surrounding areas will need to continue, although I question whether the political will to do so exists. Continued densification of the area between GMU and downtown would be beneficial, as at present GMU is isolated by the ring road encompassing the campus. There is also little the city on its own can do to address the "original sins" of the VA-236/VA-123 intersection, or that the Vienna/Fairfax-GMU Metro station is purely a commuter rail hub, with the station in fact straddling a major highway, I-66. My other alma mater, the University of Maryland, was subject to the same fate, with its Metro stop far from campus.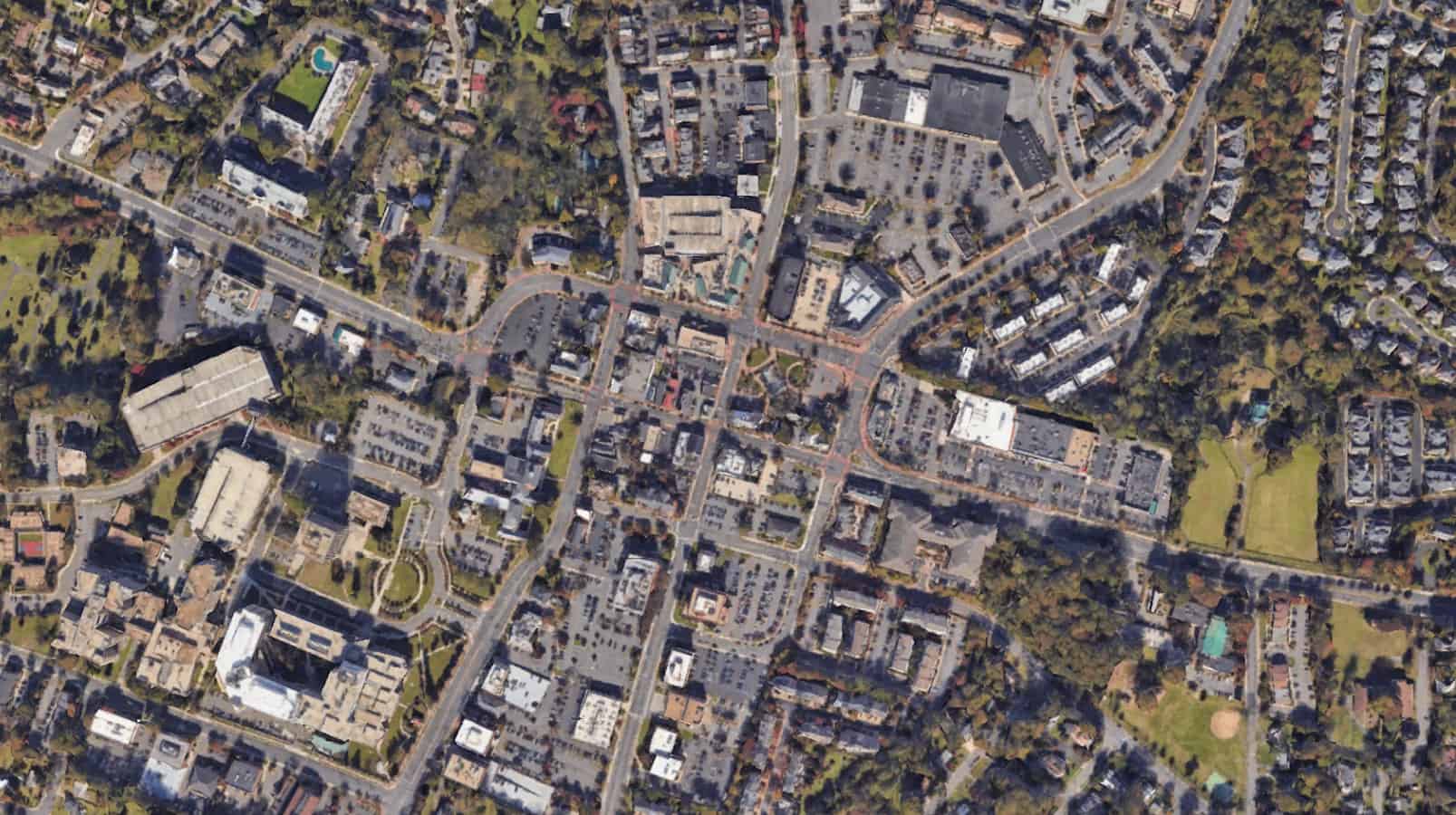 Speaking of new development, let us turn our attention to my side quest to a new apartment and townhouse development on the site of an old high school, adjacent to my current neighborhood. This development has sprung up quickly, entirely in the time I've lived here. A whole new row of townhouses has since gone up since I took these photos. The DC area needs much more housing, and it is encouraging to see infill development of townhouses and apartments as opposed to the single-family sprawl now spreading into the far reaches of Fairfax and Loudoun Counties and beyond. While I do welcome these new units, they are unfortunately quite expensive, starting at just under $1 million. This showcases well just how much housing needs to be built in the DC area, especially in DC itself and inside the Beltway in high-demand places like Arlington, Bethesda, and Silver Spring.