Amidst the ever-changing urban landscape, a fascinating phenomenon is unfolding. The past two decades have witnessed a surge in new city development across the Global South, marking the dawn of an exciting urban era. While the construction of master-planned cities is not new, recent shifts in scale, geographic distribution, and project framing signify a transformative shift in new city development. Countries throughout the Global South are embracing new cities to address the challenges of rapid urbanization and economic stagnation, and to foster solutions for social inclusion and environmental sustainability. This emergence of new city projects holds the power to shape our world in significant ways.
From 1945 to 1959, new city projects were evenly distributed between the Global North and the Global South. During this period, countries in the Global North announced plans to create 22 new cities, with Russia, the United Kingdom, and the United States being the most heavily engaged in new city development.¹ Meanwhile, India, China, Pakistan, and Turkey were the major players in new city development in the Global South.
As the 1960s and 1970s unfolded, the geographic distribution of new cities began to change during the 1960s and 1970s, with about 70% of projects – 62 out of 87 – located in countries throughout the Global South. This shift was driven primarily by Singapore, India, and Iran, who together accounted for more than a third of all new city plans proposed in the Global South between 1960-1979. The United States was the leading developer of new cities in the Global North, introducing six new city projects, which were a mixture of resort cities and residential commuter cities, such as Mission Viejo in California.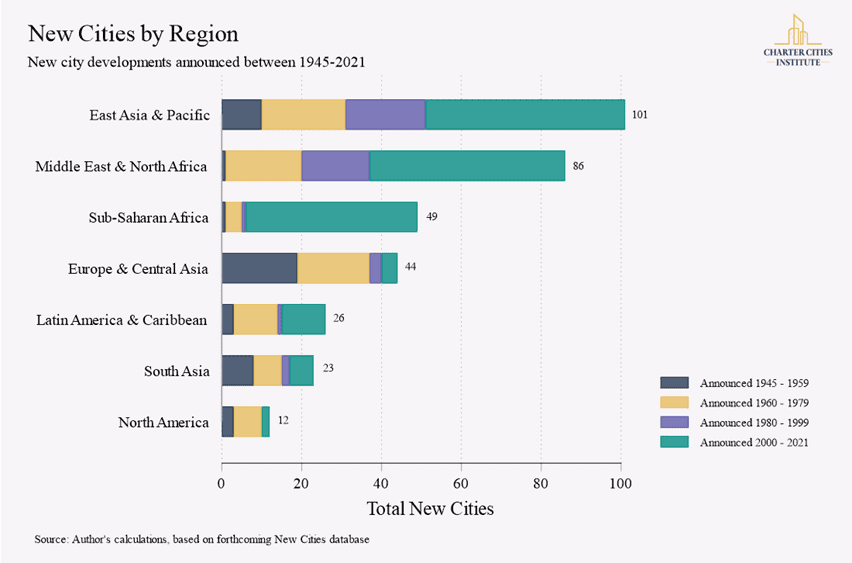 The 1980s and 1990s saw a marked decline in the total number of new city developments, reaching levels comparable to the 1950s and 1960s. Of the 44 new cities introduced during this period, only three were located in countries of the Global North – Arnhem and Almere in the Netherlands and Astana in Kazakhstan. During this period, China began to experiment more extensively with new city development, introducing 12 projects. Egypt also emerged as a leader on the new cities scene, announcing plans for 10 projects.
Although broadly following the trends of the 1980s and 1990s, the 2000s marked a turning point in the scale, geographic distribution, and framing of new city developments across the Global South. In fact, in the past twenty years, more new city projects have been announced in the Global South than during the entire period from 1945-1999 – 159 compared to 126. In contrast, only six new city plans were announced in countries located in the Global North. Of these, only one – Eindhoven in the Netherlands – is currently active, while four remain under development or in the speculative stage, and one has been discontinued.
Since 2000, three regions have outpaced all others in introducing new city plans: East Asia and the Pacific (50), the Middle East and North Africa (MENA)(49), and Sub-Saharan Africa (SSA) (43) (see Figure 1). Countries in East Asia and the Pacific have consistently been at the forefront of new city development since the 1960s. However, after 2000, the total number of projects in the region nearly doubled, driven primarily by one country in particular: China. In the past two decades, China has announced plans to build 41 new cities (see Figure 2). Impressively, 38 of these cities are currently active, while two are under development and only one remains in the speculative stage. China is now home to 58% of all new city development plans proposed in East Asia and the Pacific and 17% of new city development plans proposed worldwide since 1945.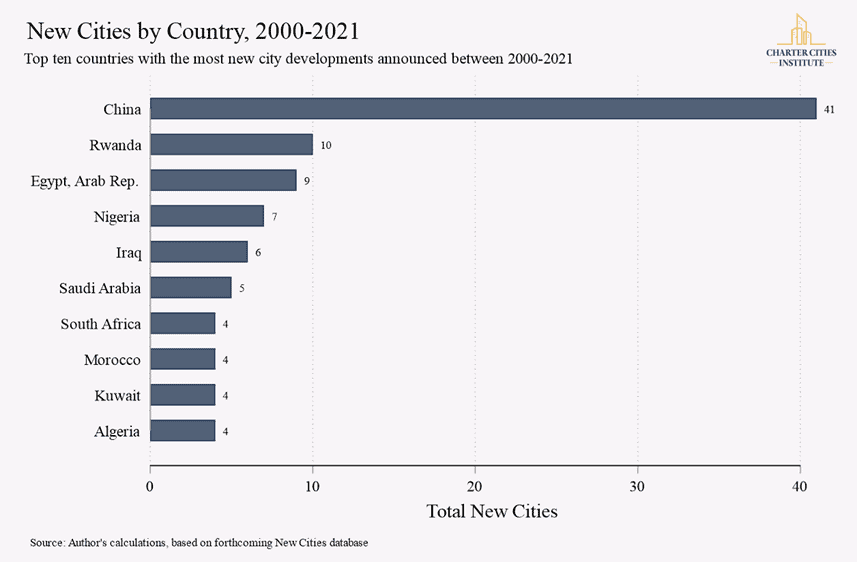 MENA and SSA have experienced a more balanced proliferation of new, master-planned cities in the past two decades, though the pace and rate of project completion has been substantially lower compared to China. In the MENA region, Egypt has continued to lead the way, announcing plans to create nine new cities, five of which have been framed as "satellite cities."
Satellite cities are urban areas located close to a larger metropolitan center, typically developed as part of urban planning initiatives to tackle issues related to rapid growth, such as housing shortages, congestion, and sprawl. Many governments have also cited social inclusion and reduction of informality as a driving force behind the establishment of satellite cities. Egypt and India both began to experiment with the construction of satellite cities during the 1960s and 1970s, with notable success. For instance, located outside of Mumbai in Maharashtra state, India, Navi Mumbai is one example of a booming satellite city. Since 2000, as urbanization pressures have increased across the Global South, the number of new cities explicitly framed as satellite cities has more than doubled, becoming the most common city focus (see Figure 3).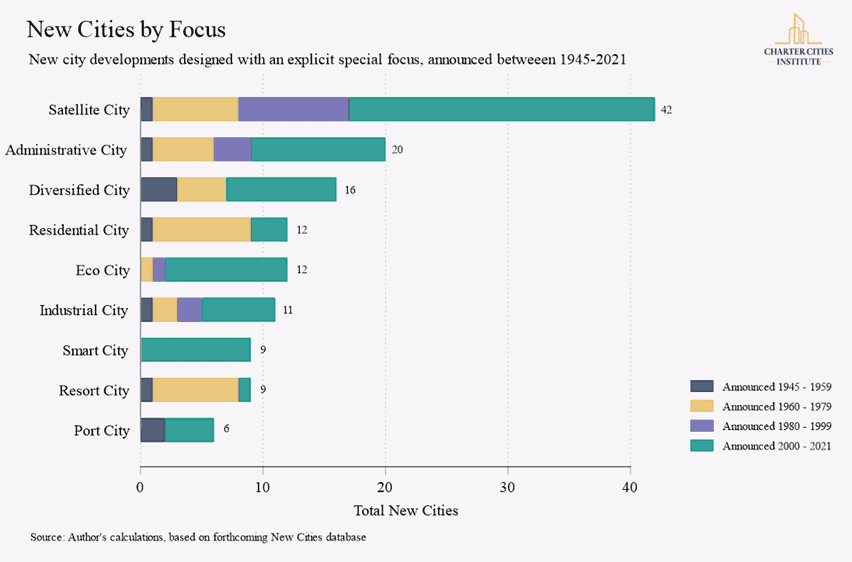 Egypt is not the only country in MENA building new cities. Iraq has also announced plans to build six new cities, although none are currently active. Saudi Arabia has constructed two new cities and is currently developing two more, including NEOM, the infamous "line" city; another remains in the speculative stage. These projects have been framed as "economic cities" and are being developed as part of the Saudi government's efforts to diversify the country's heavily oil-dependent economy. One example is King Abdullah Economic City (KAEC). Located strategically on the Red Sea coast, KAEC's King Abdullah Port has already experienced remarkable success.
Morocco, Kuwait, and Algeria have each announced plans to construct four new cities, though only four total are currently active between all three countries. Interestingly, two of these active new cities are framed as "eco cities," with another under development in Morocco. Pioneered in Curitiba, Brazil in the 1960s, eco cities aim to create a sustainable and livable environment for residents while reducing their impact on the planet. The number of cities explicitly framed as eco cities has increased substantially since 2000, marking the emergence of a new trend in city planning, design, and construction. One example of a particularly successful new, master-planned eco city is Rajarhat New Town, India, a satellite city located outside Kolkata and explicitly designed with the "objective of developing an eco-friendly green dotted city." The growth of eco cities has the potential to help address some of the most pressing environmental and social challenges of our time.
In SSA, Rwanda and Nigeria have led new city development since 2000. However, construction of new city projects across the region has been slow. Of the 43 projects announced over the past two decades, only 11, or 26%, are currently active; over half are currently under development, while five remain speculative and two have been discontinued. Of the ten projects proposed in Rwanda, all are still under development. Similarly, in Nigeria, six of the seven new city projects are under development, while one – Suleja Smart City – is under speculation.
Importantly, the announcement of the Suleja Smart City project points to another trend in new city framing since 2000 – the emergence of master-planned "smart cities." Smart cities aim to use technology and data to improve residents' quality of life, enhance sustainability, and increase efficiency in various sectors. Many cities around the world have retroactively turned to technology and smart solutions to address a variety of challenges, but the integration of modern technologies into a city's foundational plan is more recent phenomenon. One example of a relatively successful master-planned smart city is Songdo, South Korea. Located 30 km outside of Seoul, Songdo "is filled with cutting-edge technologically enhanced infrastructure and services," making it a model for the future development of smart cities.
Overall, the turn of the century has seen the proliferation of vast number of new city projects, concentrated primarily in the Global South. Additionally, since 2000, more new city projects are being explicitly framed as "focused" or "specialized" cites. Satellite cities have blossomed outside of major cities to help relieve urbanization pressures, but eco cities and smart cities have also emerged as two promising master-plan models. The coming decades will see many of these projects come to fruition, and as demographic, economic, and environmental pressures continue to bear down on countries across the Global South, the success of new cities may prove even more crucial than ever before.
---
¹ Note: The analysis conducted for this article was based on an early version of the New Cities Database, which goes live on May 30th, 2023. Once live, please visit https://newcitiesmap.com/ to download the most recent version of the data.