TLDR;
Launched Africa's NXT50 Cities Coalition

: The coalition's aim is to facilitate the building of thriving new cities across Africa that create jobs, foster investment and innovation, and promote human flourishing. We have 15 coalition members right now, and many more currently in the pipeline. All are welcome! Learn more and sign up

here

!

Co-hosting and co-authoring with big, awesome partners

: We're co-hosting conferences on charter cities and new cities with MIT's Sustainable Urbanization Lab (join as at MIT

here

!) and with the African School of Economics; co-authoring joint articles with US Congressman Jake Auchincloss, with Afrexim Bank, with UN-Habitat, and with the Carnegie Endowment for Peace.

Presenting the charter cities model at institutions and events setting the policy agenda

: CCI spoke at the SDG Labs in Davos (part of WEF); we were panel speakers at MIT's Africa Innovate Conference; presented on charter cities at the African Venture Capital Association conference in Dakar, Senegal; presented at the AfriCities Summit in Kisumu, Kenya and at UN-Habitat; we were invited speakers at the launch of Malawi's Secondary Cities Plan; and we're presenting on charter cities at the World Urban Forum in Poland, at the African Development Bank, and at the US-Africa Business Summit in Morocco this summer.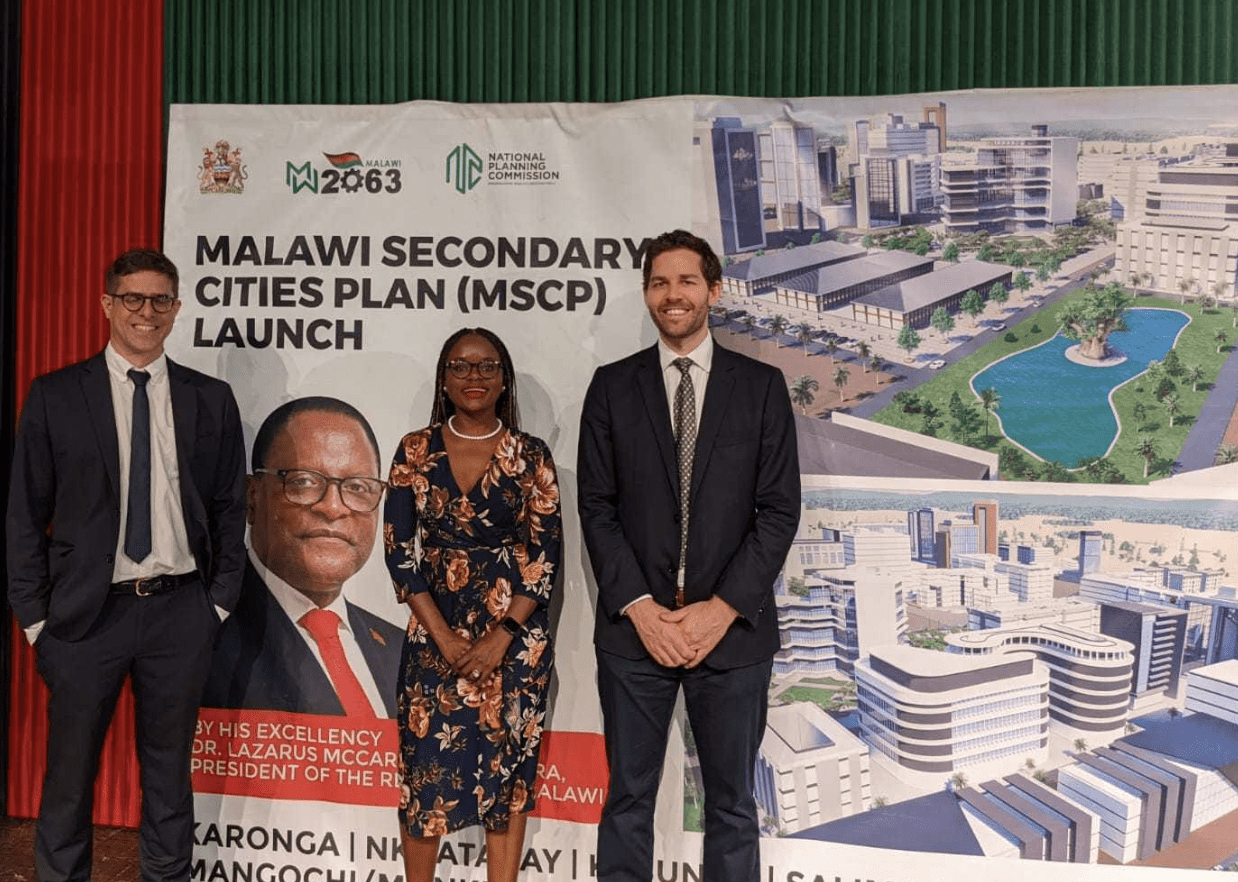 Teaching a charter cities university course

: Myself and CCI Senior Researcher,

Professor Matthew McCartney

, will teach a charter cities course at the University of Arizona Tucson during the Fall 2022 semester.

The charter cities movement is here. Join us!
The big story of 2022 for CCI has been a strategic shift. For our first four years we were focused on setting the intellectual framework for charter cities. Now that this framework is largely set—complete with a governance framework, planning guidelines, an industrial strategy guide, and other reference guides—we are moving to the next stage of CCI's journey: applying this framework.
Below are just some of the activities the CCI team has undertaken in the past six months to push implementation forward.
The CCI Zambia Office is in full swing.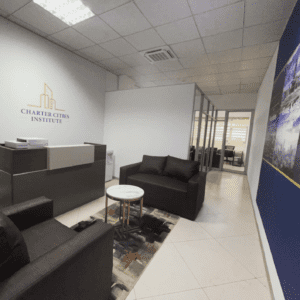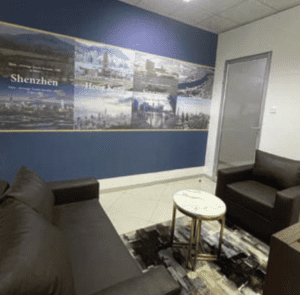 With the office established in November of 2021, CCI Zambia now has three full-time staff who have been hard at work pushing the charter cities movement forward, not just in Lusaka but across the continent. The office has already had some notable achievements. First, CCI Zambia is a member of Zambia's Technology Sector Working Group reporting directly to the Minister of Science and Technology. In addition, CCI Zambia is co-writing several policy papers, including one on charter cities legislation ("MFEZ Cities") with the Zambia Institute of Policy Analysis and Research (ZIPAR) to be presented at the African Renaissance Conference in September, 2022 where the president and several ministers will be in attendance.
2. CCI launched the NXT50 Cities Coalition, which has already attracted outstanding coalition members.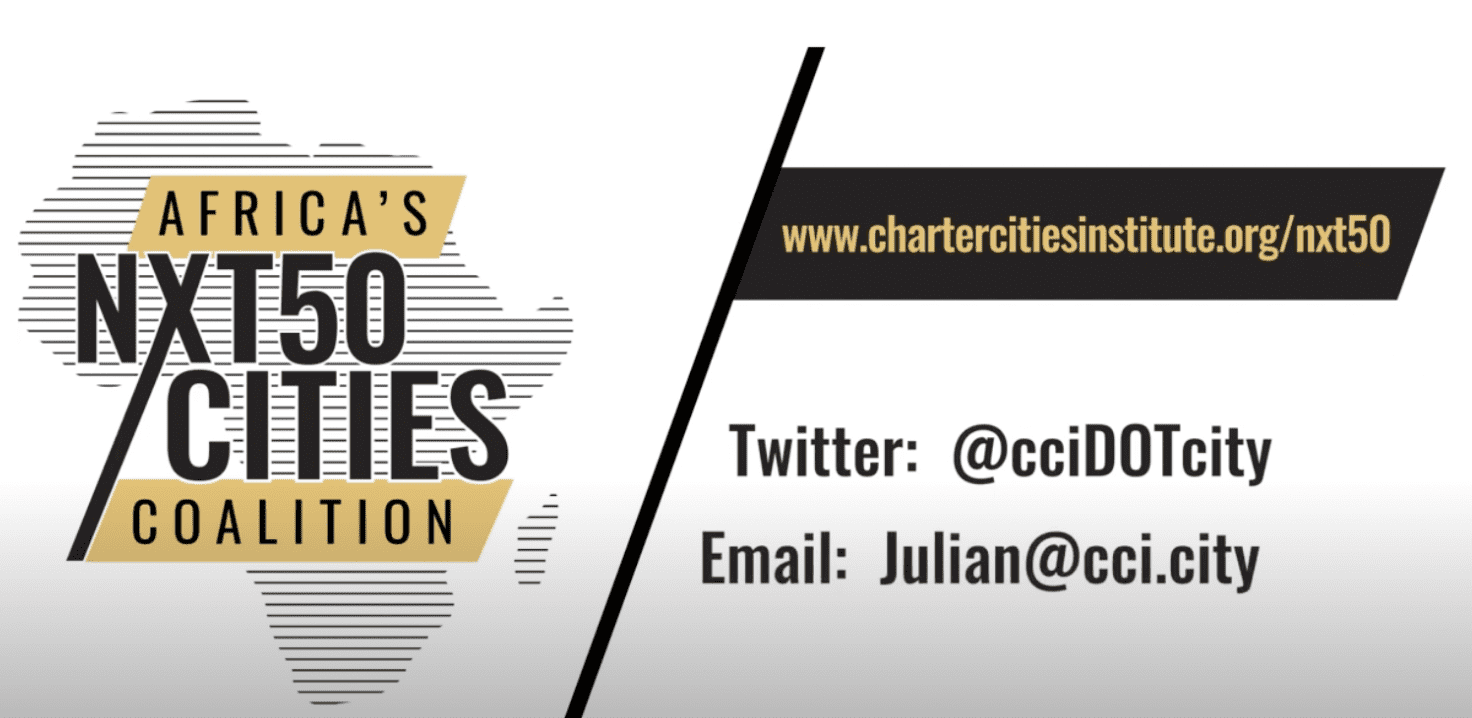 The NXT50 Cities Coalition was soft-launched in April, 2022 at both MIT Sloan's Africa Innovate Conference and at the African Venture Capital Association (AVCA) conference in Dakar, Senegal. The coalition is now fully up and running, and currently has 15 coalition members, with many more in the pipeline. Through the coalition, CCI is convening all the essential stakeholders required for both the implementation of charter cities legislation and for getting thriving new cities financed and built—this includes organizations from the public sector, the private sector, DFIs, and civil society, among others. All are welcome! Sign up here!
With the world finally opening up, the CCI team has hit the road in a big way.
In addition to the coalition activities in Dakar and at MIT, and the Zambia office activities (both mentioned above), the CCI team has been invited to speak about charter cities at events, summits, and conferences far and wide.
Kisumu, Kenya — AfriCities Summit
In May the CCI team hosted an entire panel on charter cities as a new model for the development of intermediate cities at the AfriCities Summit in Kisumu, Kenya. Below is CCI Zambia's Africa Lead, Mwanda Phiri, both presenting in Kisumu (below; top) and pictured with the Executive Director of UN-Habitat—Maimunah Mohd Sharif—and with Zambia's Minister of Local Government—Honorable Gary Nkombo—(below; bottom).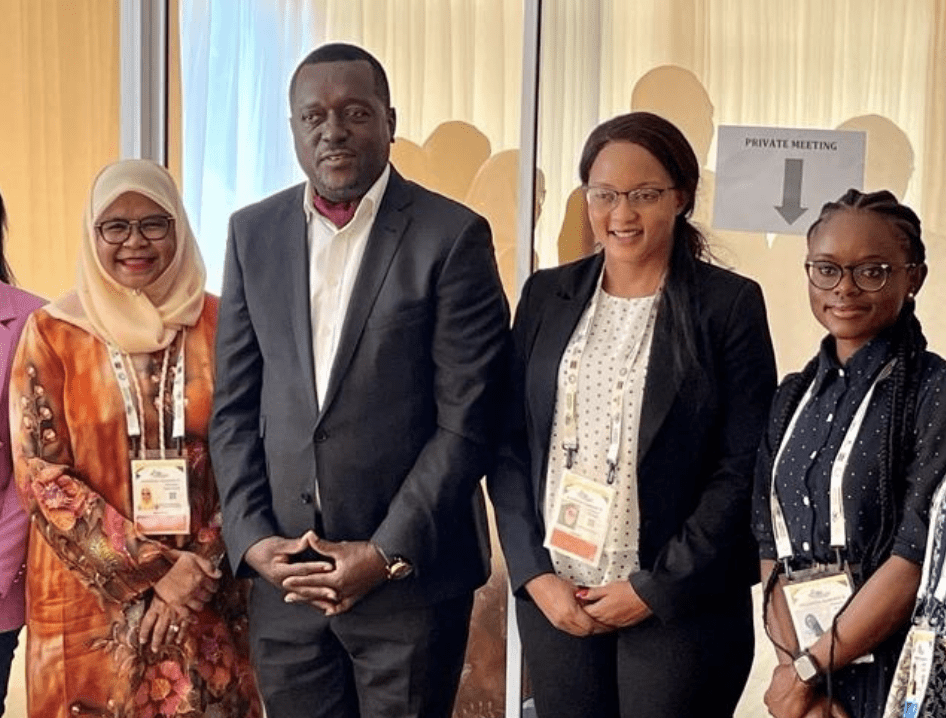 Davos, Switzerland — SDG Labs
On top of the CCI team at the AfriCities Summit, I've been on the road as well. First stop was an invite to the SDG Labs event in Davos, Switzerland during the World Economic Forum. The event was centered around adopting more sustainable and productive responses to refugee and migrant flows than the status quo response of trapping refugees in semi-permanent camps and denying them the ability to work. CCI has published research on conceiving of refugee settlements not as constraining camps but as charter cities that provide displaced populations with the full right to work, live, and improve their own livelihoods and the livelihoods of their children. In addition to CCI, many others in the charter cities and new cities space were also present in Davos, including Nobel Laureate Paul Romer, who first coined the concept of charter cities with his TED Talk back in 2009 (below).
Lilongwe, Malawi — Launch of Malawi's Secondary Cities Plan & MOU Signing
Next on the road trip was Kenya and Malawi. Malawi was especially exciting, as CCI formalized our partnership with Malawi's National Planning Commission (NPC) with the signing of a memorandum of understanding (MOU) (below; top). This MOU establishes CCI as a key implementation partner for Malawi's Secondary Cities Plan. This Secondary Cities Plan presents comprehensive spatial development plans for 8 strategically selected sites across Malawi. The plan was formulated by the NPC and several partners in preparation for the projected tripling of Malawi's urban population over the next three decades. I was honored to be invited to speak at the official launch of Malawi's Secondary Cities Plan on Tuesday, May 31st (below; bottom).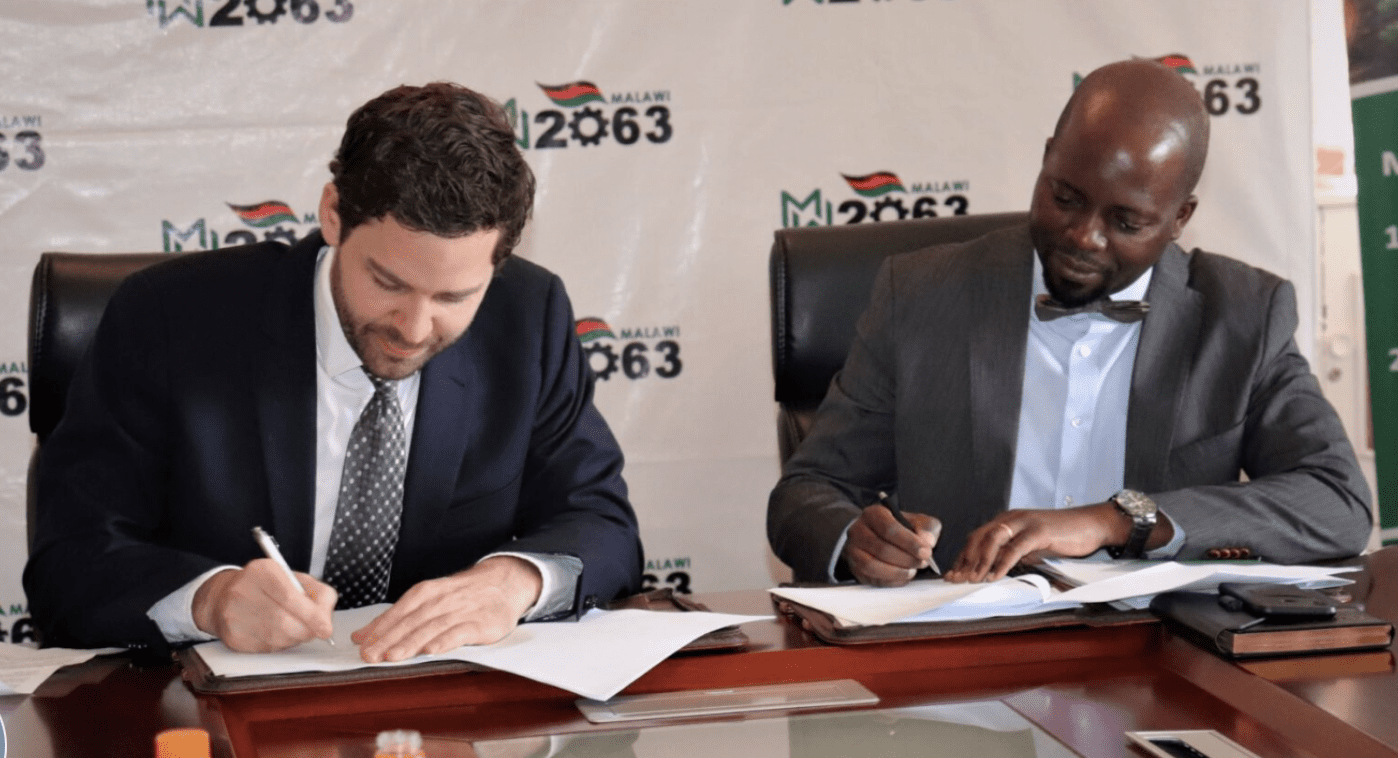 Lusaka, Zambia — Zambia Development Agency, Lusaka South-MFEZ, and others
The next leg of the road trip was to Lusaka. In addition to being able to see our Lusaka office in-person for the very first time (!!), we also furthered our engagement with several strategic stakeholders. First, we extended our MOU with the Zambia Development Agency (ZDA) by agreeing to renew and revamp our existing MOU with ZDA's new Acting Director General, Albert Halwampa (below; left). Part of this renewal involves the ZDA joining our NXT50 Cities Coalition, and also reenvisioning Zambia's existing special economic zone regime (called Multi-Facility Economic Zones or MFEZs) as "MFEZ Cities," which are analogous to charter cities (tailored to the Zambian context).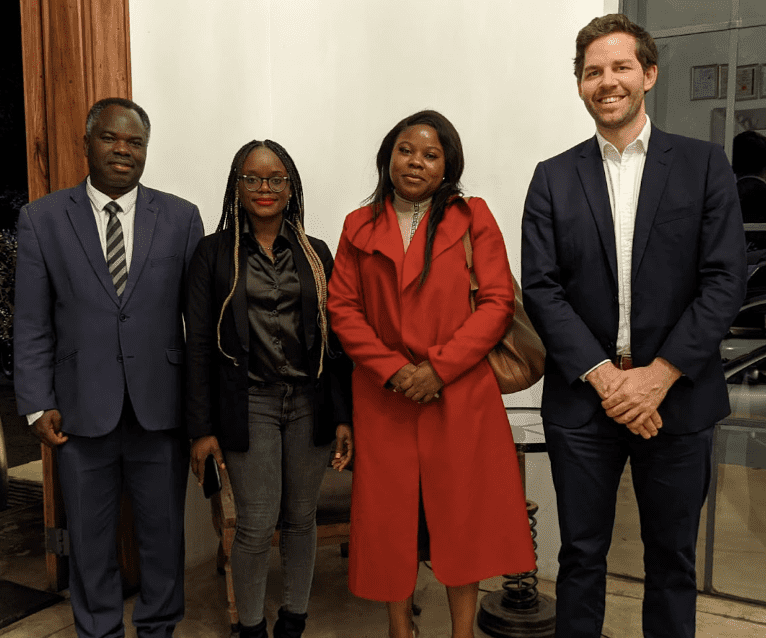 Second, having met with and toured Lusaka South-MFEZ several times in the past two years, our relationship with LS-MFEZ is now being formalized into a new MOU that reimagines the zone as an "MFEZ City." This work will provide a tangible template and example of what the "MFEZ Cities" policy work (being done with the ZDA and with the Zambian Institute of Policy Analysis and Research) proposes. This work lends concrete specifics to what can too often remain abstracted policy conversations, painting a real-world picture to bolster understanding and buy-in from Zambian policymakers.
Third, one of the main aims of the Lusaka office is not just to push forward policy work at the top, but also to engage in bottom-up community sensitization of the charter cities model amongst citizens and civil society groups. To that end, we first met with the President of the Local Government Association of Zambia (LGAZ) and Mayor of the city of Mazabuka, Vincent Lilanda, and were invited to speak on charter cities at LGAZ's annual conference in August that brings together the 100+ local government authorities from across Zambia (below; top). In addition, we also did a radio show segment on charter cities on Zambia's HOTFM, discussing the importance of well governed cities to well-being and future development, and how charter cities can help us get there (below; bottom).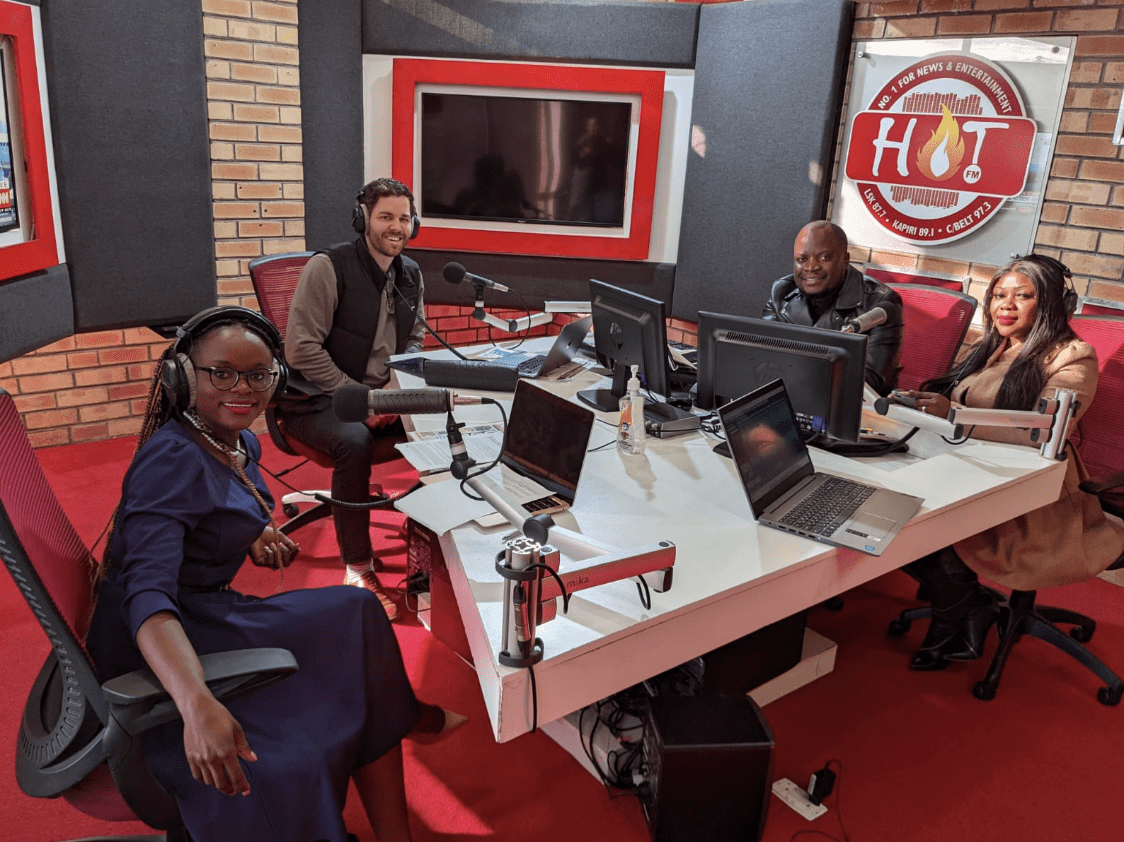 4. Next Steps
The first half of 2022 was just the beginning. In the second half of the year, CCI will double down on all of the above progress, and add:
The CCI team will be at the

World Urban Forum

(WUF) in Poland at the end of June. WUF is the premiere gathering of city policymakers and urban practitioners discussing new ways to tackle urbanization challenges — charter cities will be part of this policy agenda.

I'll be moderating a panel on "

Leveraging Financing Options to Accelerate SDG Progress

" at the

US-Africa Business Summit

in Morocco from July 19th-22nd.

In September, CCI is helping organize side events on charter cities held alongside the UN General Assembly annual meeting in New York City.

CCI will be teaching its first charter cities course at the University of Arizona Tuscon this Fall semester.

CCI is co-hosting a conference on charter cities and new city development with MIT's Sustainable Urbanization Lab in Boston on Oct. 1st and 2nd.

Come join us

at MIT!
CCI is excited for our strategic shift from setting the intellectual foundations for charter cities, to now implementing and building charter city projects. We've made a ton of progress already, and still have a lot of work ahead! If you're interested in our work, in charter cities, in any of the above projects or events, in joining the NXT50 Cities Coalition, or just in having a conversation, please feel free to contact us. We love hearing from our community. Onwards.
Kurtis Lockhart
Executive Director & Head of Research