What is freedom, and how can young people achieve it? The African Students for Liberty held the first-ever Southern Africa Regional Conference (SARC) under the theme "Young People Creating Wealth for a Freer Future through Democracy and Economic Development". The event took place at the University of Zambia in Lusaka. The conference was held during this year's youth day celebrations under the theme "Youth Development and Protection in a Changing World". It attracted more than 300 youths from Botswana, Malawi, Zambia, and Zimbabwe.
With the theme of this year's conference geared towards young people and their role in wealth creation for economic development, our participation was significant in bringing awareness to an often overlooked area. Cities are a huge starting point, and if we're able to create conducive environments that encourage wealth creation at the city level, then these eventually extend outwards to the country level.
Africa is projected to have the fastest urban growth rate in the world by 2050, with an additional 950 million people in its cities. Much of this growth is taking place in small and medium-sized towns, which will lead to continued slum growth, poverty, poor living conditions, and limited job potential for city residents. The importance of such conferences is that they create a platform that drives the conversation on rapid urbanization growth solutions that foster economic development.
The SARC had several plenary sessions which included "The Role of Young People in the Future of Southern Africa", "Democracy and Economic Development", and "The Right Path to Economic Growth" to mention a few. CCI was invited to give a keynote speech on "New Cities and Sustainable Development for a Freer Future" which was delivered by Charter Cities Institute Africa Lead, Mwanda Phiri.
The Plenary Session
Mwanda's keynote speech on "New Cities and Sustainable Development for a Freer Future" was a thought-provoking presentation that highlighted the critical issues of slums, congestion, and unemployment plaguing many African cities. As she pointed out, "Africa is youthful, with young people looking for economic opportunities. While our cities are expanding, we do not see the same employment opportunities being provided. This is a problem because when young people are not put to productive use, they will resort to other means – crime being one of them. And this is where charter cities come in."
As the Conference aimed to showcase the critical role of youth in driving social change and highlight successful approaches to libertarian views, Mwanda's insights on the potential of charter cities were a fitting contribution. She underscored how charter cities—through devolved power to new city administrations to implement good rules—can promote sustainable infrastructure development, innovative urban planning, and job creation for young people, thus driving economic growth and contributing to the achievement of Vision 2030 in Africa.
One of the innovative applications of charter cities in Africa that was highlighted is the 'Small Farm City' model which can be employed to transform rural communities through increased agricultural productivity and empower young people to take the lead. Drawing inspiration from successful models in other regions, she showcased a video on Small Farm Cities Africa, a social impact start-up City project currently being prototyped in Malawi. The video demonstrated the start-up's mission to build affordable and job-creating agricultural communities that could serve as a blueprint for sustainable rural development. Mwanda's message was clear: by leveraging innovative solutions and empowering the youth, we can create a better world for generations to come.
The Q&A Session

During the Q&A session, participants engaged in discussions on Charter Cities' role in maximizing financial returns and value, the challenges of decentralizing authority and power, and other sectors beyond agriculture and mining that can anchor new cities.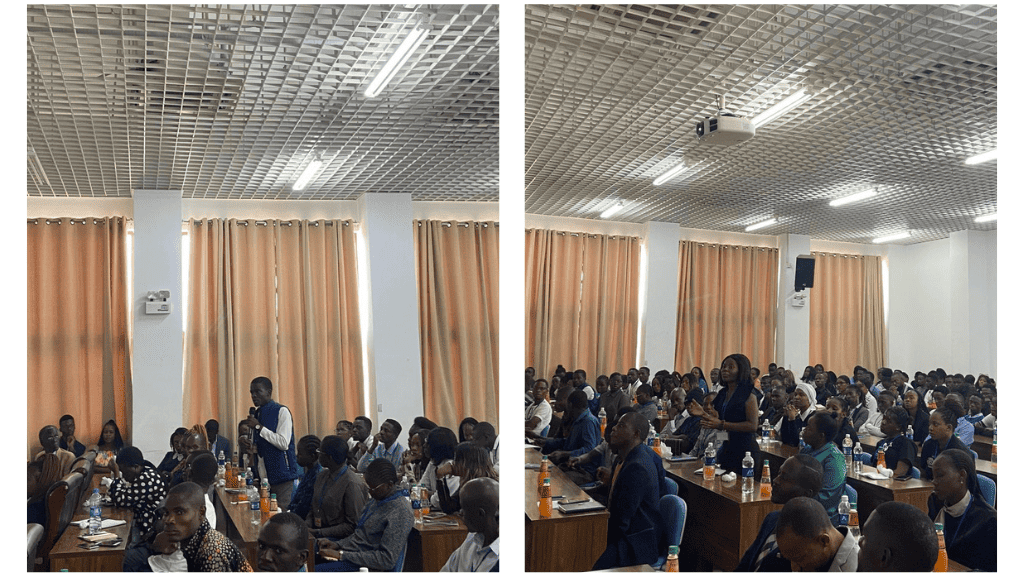 These discussions highlighted the youth's interest and engagement in finding innovative solutions to African cities' challenges, which aligns with the conference's main theme of young people getting involved and creating wealth for a freer future through democracy and economic development.
Mwanda's presentation and the subsequent discussions provided valuable insights into how young people can play a critical role in driving sustainable urban development and creating wealth for themselves and their communities.
The Booth

CCI also had a booth at the conference to meet and connect with the conference participants. Through the booth, CCI engaged and discussed in more detail about CCI's work. those that visited our booth were familiarized with the idea of charter cities and the work we are involved in, including the Lusaka Urban Lab, which was closer to home for many.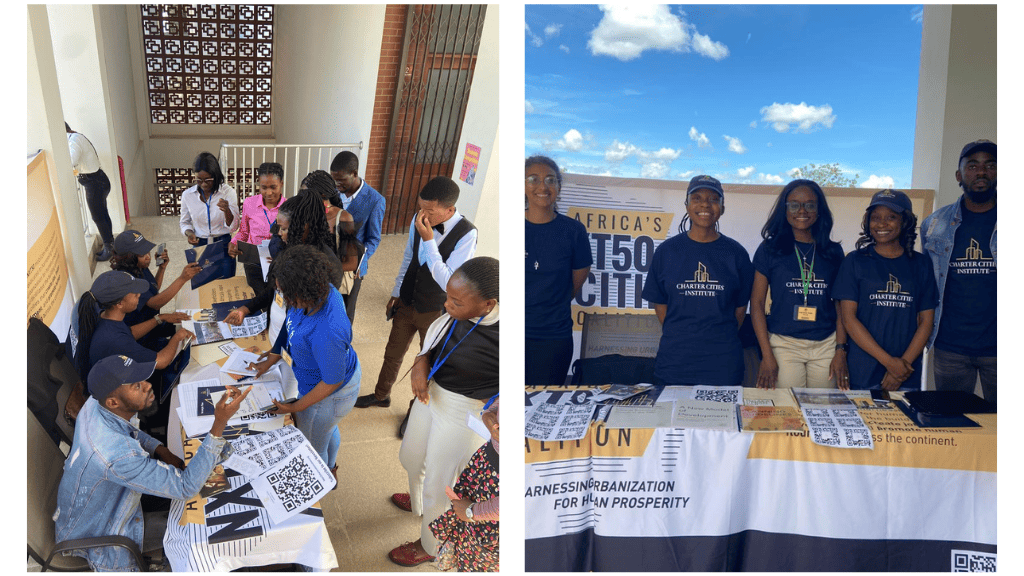 The Competition

An exciting feature of CCI's participation in the conference was the student competition that CCI held during lunch break. The objective of the competition was to engage students in their understanding of charter cities.
The students were quizzed on what charter cities are, what they involve, and how they can be used to alleviate poverty including key considerations for a charter city location. The prizes definitely lured the students in.
We had some great responses from the many who stood up to provide answers to the questions. Out of the participants, 3 winners were picked based on the clarity and accuracy of their answers. They each left with some CCI-branded goodies which included a bag, a mug, a hat, and a pen and notepad.
The competition gave way to more questions and interactions at our booth, with many of the questions being structured around the validity of charter cities in Zambia and how the students can be involved in our work.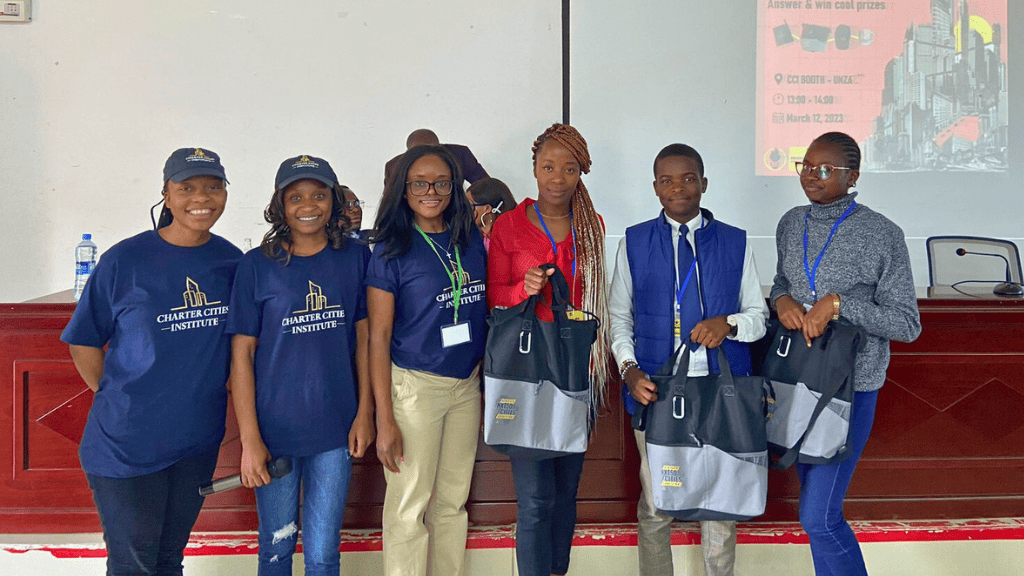 The Significance of CCI's Involvement

With charter cities being a new concept for many who attended, it was great seeing these ideas and themes spark interest in the youths. Especially, looking at the opportunities charter cities could provide. Youths are the cornerstone of any significant economic development in cities.
The new job opportunities charter cities aim to create are essential to youth involvement in economic development. We even met a young gentleman by the name of Moufred Smith, who spoke of his hopes to create a charter city in Choma in the near future!
Transforming African cities may seem daunting, but with the right vision, leadership, and support, it can be achieved. The Charter Cities Institute is at the forefront of this mission, promoting human and economic flourishing in Africa through innovative governance models and partnerships with local communities.
As youths, we can shape the future of our cities and our continent. Together, we can build cities that empower people, drive economic growth, and inspire the world. Join us on the journey toward a brighter Africa!